On the first days of the Lunar New Year 2021, we have witnessed a lot of labor recruitment notice boards hanging in front of the campuses of many companies operating in the province. It seems that the "thirst" for laborers, especially unskilled laborers is covering industrial parks and complexes in the province...
Recruitment demand on increase
As surveyed, most of the above recruitment notice boards are looking for unskilled workers with simple requirements such as good health, the age of 18-45. Nguyen Thi Ben, an expert of Great Lotus Company's Personnel Department said the company now needs additional 500 unskilled workers with simple requirements such as good health, age from 18 and above... In addition to recruiting another unskilled laborers, the company also recruits more technical experts, office specialists ... with preferential policies.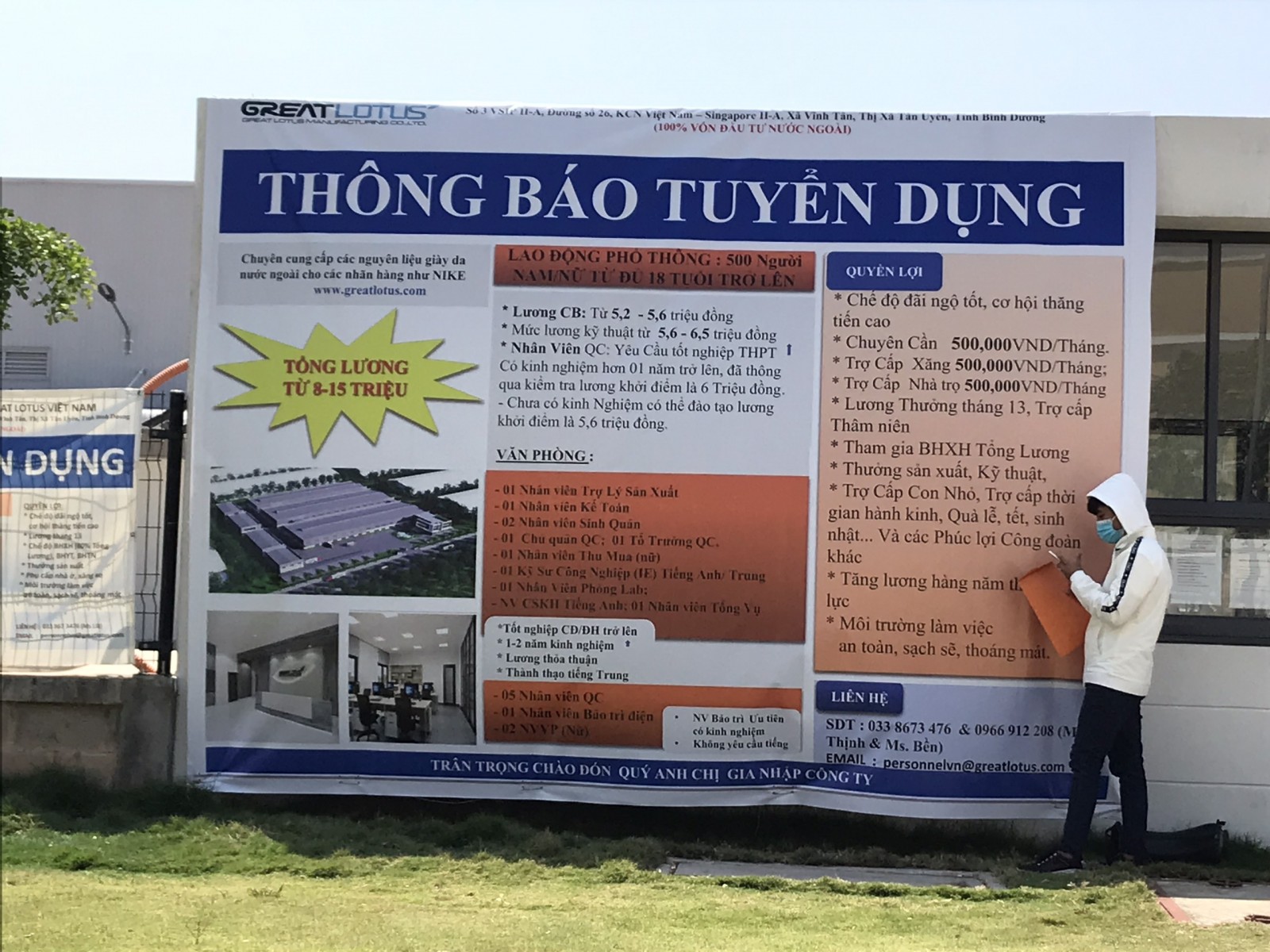 The recruitment posters of companies with many preferential policies
Meanwhile, Nguyen Thi Tuyet, a staff of Yusung A-Tech Vina Company's Administration-Personnel Department at Phu Chanh Industrial Compound in Tan Uyen Town's Phu Chanh Ward said that workers' change in terms of accommodation and employment orientation has created a serious shortage of staff for enterprises at the beginning of the year. However, many enterprises have early planned to recruit additional workers with a balanced estimate in order to solve this problem.
Retaining workers
Although there are plans to recruit additional employees before the Tet (Lunar New Year) holiday 2021, many enterprises have still fallen into a shortage of human resources, affecting their production-business activities. Although promptly recruiting additional workers, some enterprises with long-standing reputable brands are still affected as new laborers also need the time to learn and get acquainted with production lines at factories.
In the face of the real situation, many enterprises have planned to increase salaries, bonuses and other allowances together with many preferential policies for laborers before the Tet holiday. This aims to keep laborers, helping enterprises reduce the damage caused by the shortage of laborers at the beginning of the year.
To solve this problem, many enterprises had methodical strategies over the past time. One of the strategies that are evaluated to be effective and bring the spirit of enthusiastic labor emulation in factories is the separation of incomes in association with clear policies on reward and penalty. According to this strategy, enterprises will easily classify and screen workers through their income, thereby having solutions to make a breakthrough in production and business.
Reported by Dinh Thang-Translated by K.T