Amid the complicated developments of Covid-19 pandemic, all-level authorities and sectors of the province have continued synchronously implementing many drastic solutions to help enterprises feel secure in preventing, controlling Covid-19 while maintaining production and business activities. They have made efforts in clearing exports, supporting market information and promptly reporting problems to ministries and sectors for timely solution.
Maintaining production chain of goods
According to Nguyen Phu Thinh, General Director of Vietnam - Singapore Industrial Park Joint Venture Company, during the Covid-19 pandemic, enterprises are allowed to operate under the mottos of "3 on-site" or "1 road, 2 locations". They have made great efforts to maintain production along with effective plans against the pandemic. However, what businesses need now is support from sectors to clear manufactured goods, avoiding disruption of the supply chain…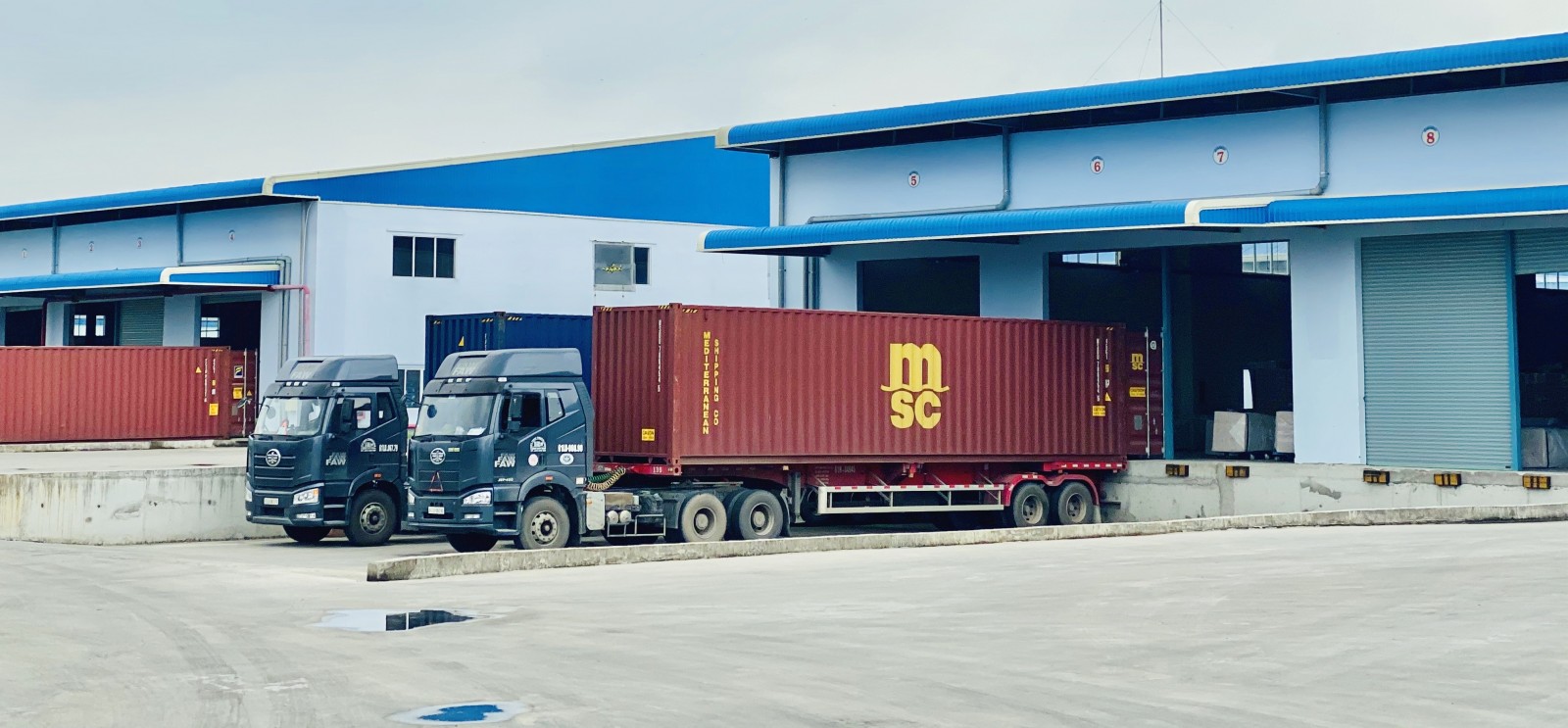 Goods transportation for export at Thien Phien Co., Ltd. in the Phu Chanh Industrial Company in Tan Uyen town
An Kyu Kang, Director of Kolon Vietnam Company said that the company now has about 2,400 workers and it must make great efforts in order to effectively maintain production. The province needs to facilitate enterprises' circulation of goods. Currently, enterprises are created favorable conditions to import production materials, but the export process is slowing down, especially in the stage of goods transportation.
According to leader of Saigon Newport Corporation, the complicated developments of Covid-19 pandemic together with problems in the maritime industry have had a strong impact on the global supply chain. A series of problems such as fluctuations in freight rates, shortage of shipping containers, temporary disruption of supply chain have created "barriers" for the development of the economy in general and the logistics sector in Vietnam in particular. The lack of space on ships, high freight rates, port jams… have appeared in major ports around the world. This has also affected the operation of ports, inland container depots (ICDs) in the southern region, leading to inventory at ports.
Meanwhile, the amount of goods exported to the US and Europe in key industries of furniture, apparel, footwear, electronics, etc. has continued surging. In the coming time, Saigon Newport Corporation will out forward solutions, further upgrading infrastructure, improving production processes to enhance customs clearance capacity at ports and ICDs in the system. The corporation will also develop services of receiving, storing and transporting import and export goods at ICD Long Binh and ICD Nhon Trach; further improve the quality of services, the capacity of cargo transportation between ports, border crossing by waterway, land connecting with ports, ICDs in the whole system. There is a long-term development plan for ports and ICDs at the needs of import and export growth in the future …
Opportunely solving problems
The province has continued consistently implementing the "dual goals" for Covid-19 prevention-control while promoting production and export of goods, contributing to the local socio-economic development. Especially, it is necessary for the province to remove difficulties for production and business, especially import and export activities, and maintain the production chain of goods. So far, sectors in the province have established groups to guide enterprises and industrial parks in Covid-19 prevention-control and production and export maintenance. Many delegations from provincial leaders have made inspection tours on Covid-19 prevention, control and production-business activities at enterprises for timely support.
Nguyen Thanh Toan, Director of provincial Department of Industry and Trade said that the local industry and trade sector is cooperating with functional agencies to establish groups on import-export support for enterprises. Initially, the sector will promptly grasp enterprises 'urgent difficulties in import and export and submit them to provincial People's Committee and the Ministry of Industry and Trade for timely support.
Nguyen Truong Giang, Deputy Director of provincial Customs Department said that the Department has actively implemented many solutions to ensure absolute safety for Covid-19 prevention-control, but still ensure to create favorable conditions for enterprises to make customs clearance amid the complicated developments of the pandemic. The Department has also strengthened the application of information technology and modern management methods in handling administrative procedures to ensure supervision and inspection over imported and exported goods, contributing to repelling and minimizing the spread of the pandemic. In addition, the Department's branches have also strengthened support groups for enterprises and anti-Covid-19 groups to ensure safety for Covid-19 prevention and control as well as opportunely grasping enterprises' problems in order to avoid jams in customs clearance. Although Covid-19 pandemic is extremely complicated, import and export activities in the province remain stable…
Reported by Tieu My-Translated by K.T