"…Arousing aspiration of a happy and prosperous nation…" is the new content in the general goal of the draft political report of the 13th national Party congress. The word of "Happiness" mentioned in the draft political report is people's happiness.
Taking care of people
This is also the great dream of late President Ho Chi Minh. Hence, bringing the notion of "happiness" into the general goal of the 13th national Party congress expresses the special attention of the Party in the cause of taking care of people's happiness. This is also one of actions concretizing Uncle Ho's testament: "The Party needs to have a very good plan on cultural-economic development, aiming to constantly improve people's lives".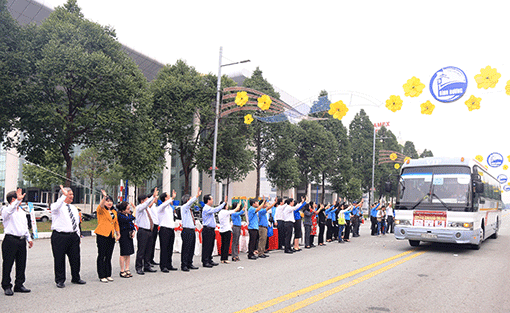 Over the past time, the province organized "spring bus" programs, taking laborers home for Tet
For people being beneficiaries
After more than 45 years of liberation, 24 years of construction and development, the province has developed vigorously. Thanks to the Party's sound guidelines and policies, from a locality with low start on economy, Binh Duong has become a locality with high industrialization and modernization growth speed in the southern economic zone, creating exploits in the local socio-economic development. These merits have brought people a well-off and happy life. This is also the viewpoint of provincial leaders over periods. All people have the right to enjoy the local development achievements.
The province has effectively tapped the local natural advantages and upheld the factor of human being after 24 years of being separated from Song Be. From a locality with difficulties, Binh Duong has become one of the country's top localities in industrial development, contributing to the national socio-economic development.
Along with achievements on economic development, the province has gained positive results in socio-cultural fields. Especially, the province's social welfare is ensured with the lives of people improved constantly. The province has also mobilized many resources to take care of social policy beneficiaries and carry out sustainable poverty reduction. Binh Duong has been recognized as a locality without poor households under the multi-dimensional poverty measurement criteria. The province has also promoted the national target program on new-style rural construction. So far, 100% of communes in the province have been recognized as new-style rural ones.
Noticeably, the province aims at developing into a smart city. With its aspiration to rise up, improve the quality of people's lives, since 2016, the province has implemented a project on smart city development. This is a flexible, creative ecosystem with factors improved constantly. Binh Duong new city also stresses great visions, creating breakthroughs for complete change with focus on human being development.
Taking care of people's lives is a major political task, the measure of fulfilling the responsibility of the Party, State for people. This is being implemented well by the Party and the State…
Reported by Thanh Son-Translated by K.T