In order to ensure people's convenient shopping during the social distancing period, localities in the province have quickly organized mobile stalls selling goods at stablized prices, contributing to reducing overloads on the local system of commercial centers and supermarket.
Quick activation
Vo Anh Tuan, Vice-Chairman of Di An city's People's Committee said that after receiving the official dispatch from provincial Steering Committee for Covid-19 Prevention and Control, the city has immediately sought and connected with retail businesses, suppliers, production units, wards to arrange points selling goods at stablized prices. Accordingly, on July 20, two points selling necessities were organized at the city's Post Office and Tan Binh ward's Cultural Center. In An Binh ward, 2 mobile sales points are arranged at the office of Binh Duong 2, 3 quarters. In addition, Di An city's Post Office has also received information about people's needs of essential goods and delivered goods to addresses requested by customers.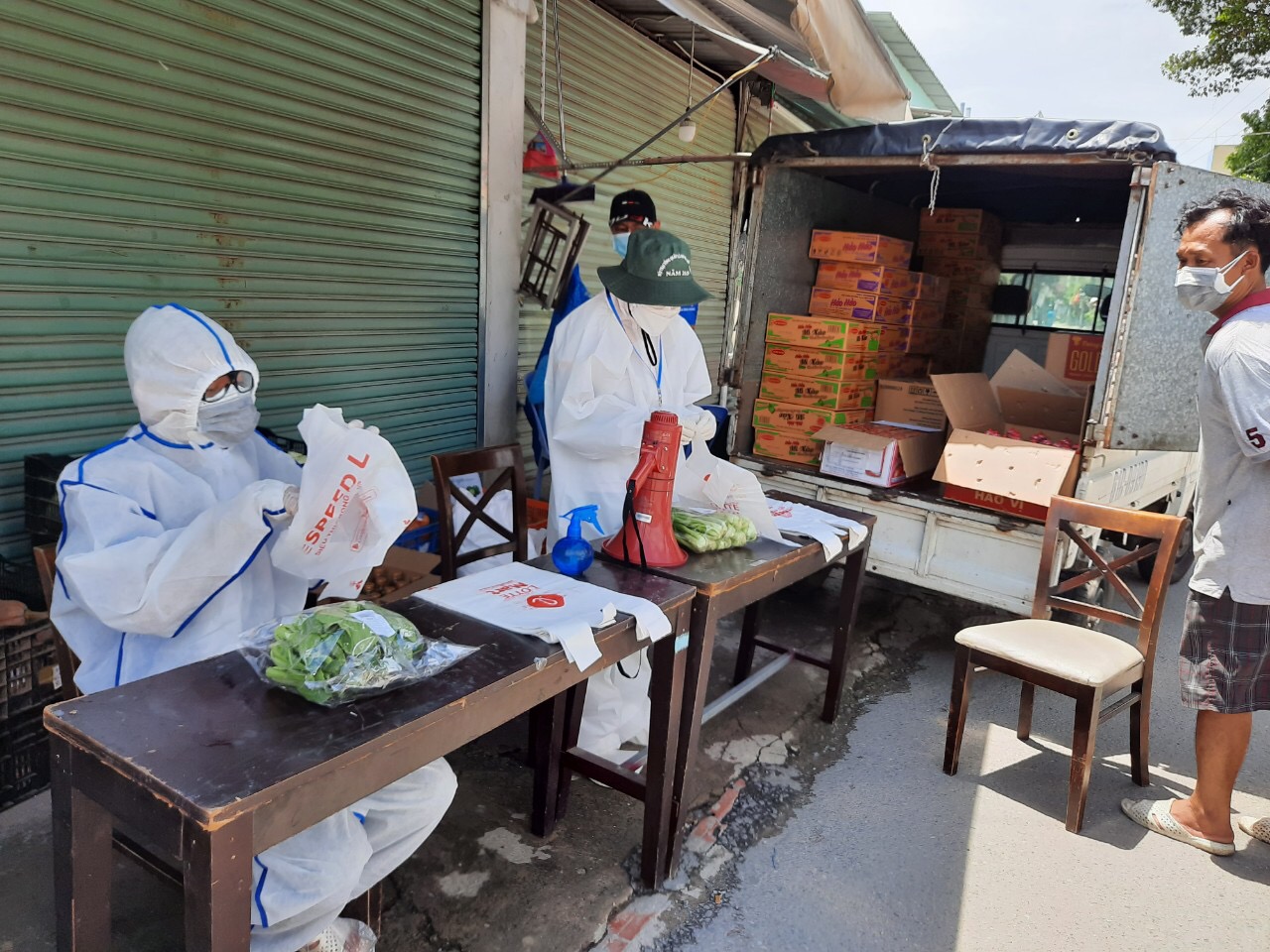 A mobile price-stabilization sales point in Binh Hoa ward's Dong Ba quarter in Thuan An city
Mr. Tuan added that the city's People's Committee will continue directing the city's Division of Economics, the People's Committees of wards and related units to contact suppliers in other provinces and cities to find more sources of goods and establish more points selling essential commodities at people's needs in the coming days. Thus, with the on-site goods supply channel of 1 trade center, 3 supermarkets, Bach Hoa Xanh and Vinnmart+ stores together with the above mobile sales points, the city will ensure the supply of essential commodities for people during the Covid-19 pandemic.
Whilst, Thuan An city has also well realized transportation of goods and organization of stalls serving people. Nguyen Thanh Uy, Vice-Chairman of the city's People's Committee said that the city now has 62 trade centers, supermarkets, retail businesses participating in supplying goods for the local people. Each quarter or hamlet is arranged an appropriate place for supplying goods for people. For quarantined areas, the city is also monitoring the import of goods for sale at wards and communes' cultural and sports centers. Thus, the source of goods is almost present in many places to serve people.
Other localities like Thu Dau Mot city, Ben Cat town, Dau Tieng district... are also focusing on implementing distribution channels of essential goods with stablized prices in residential areas, groups and households...at people's needs.
Stablized prices
Small traders at traditional markets have simultaneously pushed up prices unreasonably. In the face of the situation, businesses supplying necessities in the province have coordinated with localities to implement a price stabilization program to ensure the source of goods, fully meeting the needs of the people, even those in remote and difficult areas. Accordingly, hundreds of mobile price-stabilization sales points are organized in residential areas across the province.
Mr. Uy said that during the price stabilization sales period, participating units will always ensure sufficient supply of essential commodities, especially vegetables, fruits and fresh food. At the price stabilization sales point, the prices of goods are publicly listed and cheaper than the market at the same time... The total expenditure of the price stabilization program for essential commodities during and after the Covid-19 epidemic in the city is estimated at around VND 53.41 billion. "With the efforts by all-level authorities sectors, and businesses, we want to contribute to ensuring the best circulation and supply of goods for people during the social distancing period for Covid-19 prevention and control", said Mr.Uy.
According to provincial Steering Committee for Covid-19 Disease Prevention and Control, the province's source of price stabilized essential goods during the Covid-19 pandemic is estimated at around VND 685 billion. Of these, the supply of beef, buffalo meat is 2,250 tons/month; pork with 7,500 tons/month, poultry meat with 3,750 tons/month, poultry eggs with 40,000,000 eggs/month…
Reported by Thanh Hong-Translated by K.T