On the afternoon of January 18, provincial Women's Union forwarded its 12th open Executive Board conference with focus on reviewing activities in 2020.
The event was attended by Vo Van Minh, Permanent Vice-Secretary of provincial Party Committee, Chairman of provincial People's Council; Nguyen Van Loc, member of provincial Party Standing Committee, Head of provincial Party Committee's Mass Mobilization Commission, Chairman of provincial Fatherland Front Committee.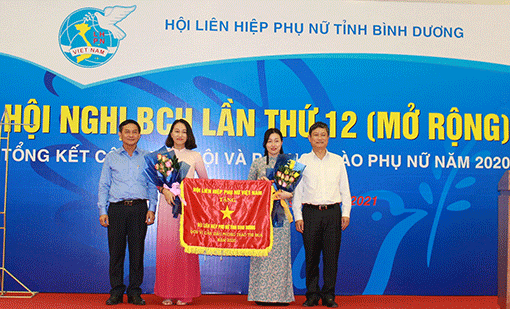 Provincial leaders award the emulation banner of Vietnam's Women's Union Central Committee to provincial Women's Union Standing Committee
Despite facing difficulties, provincial Women's Union last year strived to reach good results in emulation movements, campaigns and fulfilled 3 major tasks in making propaganda, mobilization and support for women to reach comprehensive development, build happy families…
The conference also defined orientations, tasks for 2021; supplemented 3 individuals into the Executive Board of the 10th provincial Women's Union for the 2021-2026 tenure; signed the emulation agreement 2021…On this occasion, provincial Women's Union was awarded the emulation banner of Vietnam Women's Union Central Committee. 38 collectives and 35 individuals were also honored…
Mr.Loc asked for provincial Women's Union to further uphold its achievements while having more effective ways; continue well realizing its core role in uniting, gathering and encouraging women to actively take part in socio-economic development, contributing to successfully realizing the goals set out by the 11th provincial Party congress.
Reported by Ngoc Nhu-Translated by K.T