From an agricultural locality, North Tan Uyen district has reached positive changes in industrial manufacture, trade and services in recent years. The district has absorbed many investment projects with stable operation, contributing to the local production capacity, labor productivity, products 'quality and competitiveness.
Stable market
In 2020, the district's total retail sales revenue of commodities and services was more than VND2.94trillion, up 13.03% compared to 2019 or 102.58% of the year's plan. The district well realized the program of "bringing Vietnamese goods to the countryside", strengthened State management in the field of trade-services.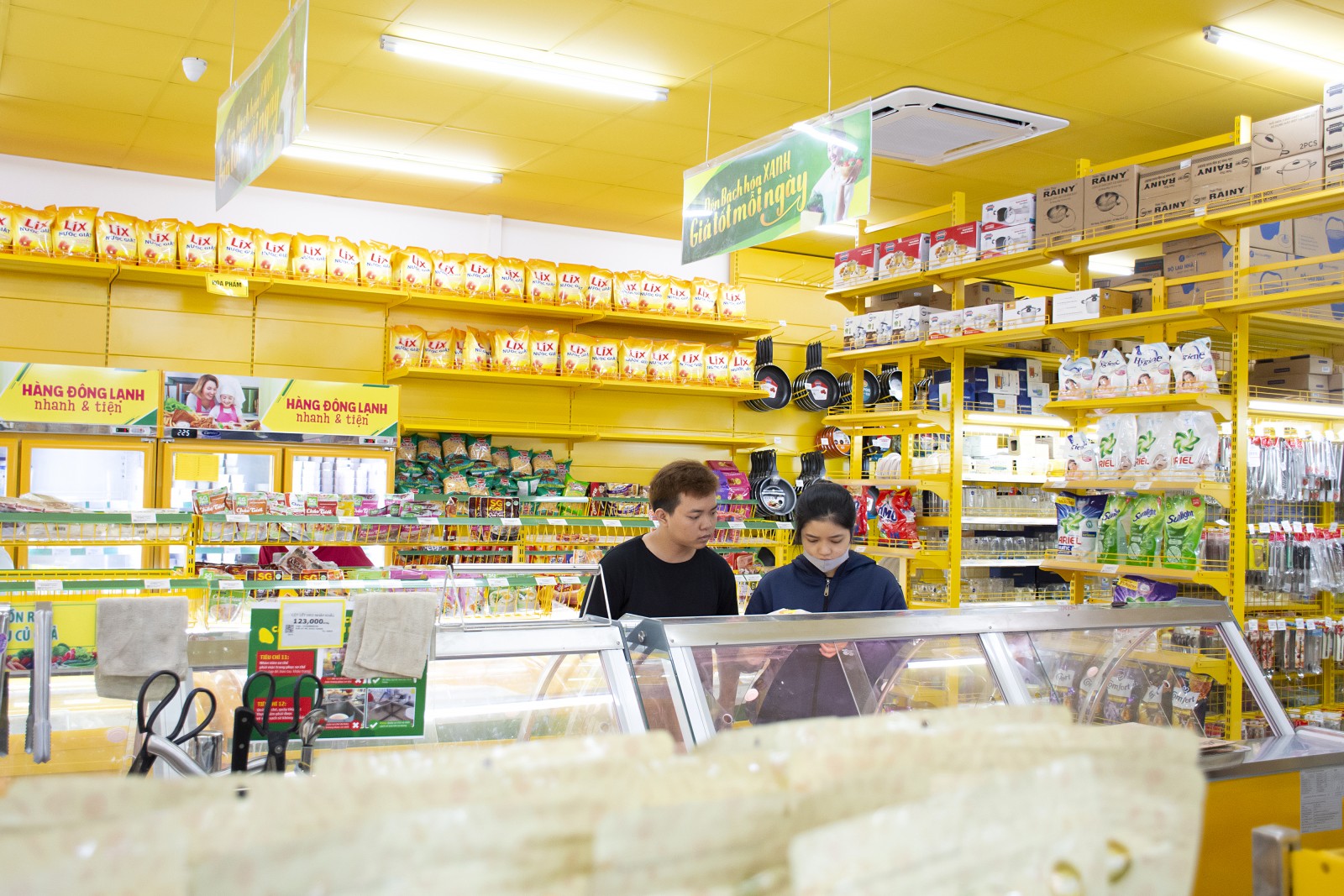 North Tan Uyen district's sector of trade-services has got more and more thriving, well serving the local people's demand
In early December 2020, the district coordinated with provincial Trade Promotion Center to hold a joyful market-day at Tan Thanh market within one week. This was a chance for domestic producers to get access to the rural market. People in the rural region also had a chance to buy hi-quality Vietnamese goods with reasonable prices. In addition, the market-day contributed to strengthening trade promotion activities and the linkage in consuming agricultural products.
Nguyen Hung Son, Head of the district's People's Committee said that the district now has 7 markets built from State budget and 2 private markets, namely Tan Thanh and Dat Cuoc. The amount of goods at the markets is very abundant with quality ensured, basically meeting the local people's demand for shopping. Especially, three "Green" general stores were established in Dat Cuoc, Binh My communes and Tan Thanh township last year. This is seen as a good sign for the local sector of trade-services. He also hopes that the district will further absorb another trade centers, supermarkets in the coming time, contributing to promoting the local sector of trade-services.
Besides, the district's People's Committee has also made efforts in direction, ensuring supply of essential commodities in a bid to combat Covid-19 pandemic. Last year, the district's functional agencies carried out inspection for 1,839 cases, handled 311 wrong ones with total fine of more than VND5.3billion.
Industrial manufacture getting thriving
Over the past time, the district also bent on absorbing investment projects into industrial compounds and parks, aiming to improve the local added values. In 2020, district-based industrial compounds and parks attracted 13 investment projects. The district's industrial production value was estimated at more than VND4.25trillion, up 11.09% compared to 2019. Of these, the domestic investment sector gained more than VND2.7trillion, up 11.35% while the foreign investment sector achieved more than VND1.55trillion, up 10.63%.
Also in 2020, provincial Department of Planning and Investment granted 47 business registration certificates to domestic and foreign enterprises with total investment capital of VND444.2billion. So far, the district has lured 587 enterprises granted business registration certificates with total investment capital of more than VND10trillion.
Thai Thanh Binh, Secretary of the district's Party Committee, Chairman of the district's People's Committee said that the district will boost a task of attracting auxiliary services for industrial manufacture, agricultural development; attach special importance to services on tourism, credit-finance, banking, transportation…in the next period.
Moreover, the district will promote socialization for investment in markets, supermarkets, trade centers, convenient stores, serving the local people's demand for shopping. The district will also put focus on luring investment projects into industrial compounds and parks with fully-done infrastructure facilities; promote hi-tech and environmentally friendly industries; organize dialogues with enterprises to opportunely deal with their obstacles in production-business; coordinate with relevant units to hasten compensation-site clearance for the projects of the expanded Dat Cuoc industrial park, Tan Binh industrial park and VSIP III in Tan Lap commune for the phase 1…
In 2020, the district's total retail sales revenue of commodities and services was more than VND2.94trillion, up 13.03% against 2019 or 102.58% of the year's plan. For 2021's targets, the district will strive to reach the growth of 11%-13% in industrial production value and the growth of 14%-16% in total retail sales revenue of commodities and services…
Reported by Tien Hanh-Translated by K.T