Poverty reduction is one of North Tan Uyen district's top priorities in ensuring the local social welfare and socio-economic development. Hence, the district implemented many programs, projects and effectively realized the local sustainable poverty reduction.
Diverse models on poverty reduction
North Tan Uyen district has so far made changes, especially in poverty reduction. Noticeably, the project of breeding cows for livelihood in Dat Cuoc commune has offered help to 6 families with disabled members. The family of Mai Huy Dong is a typical example for this.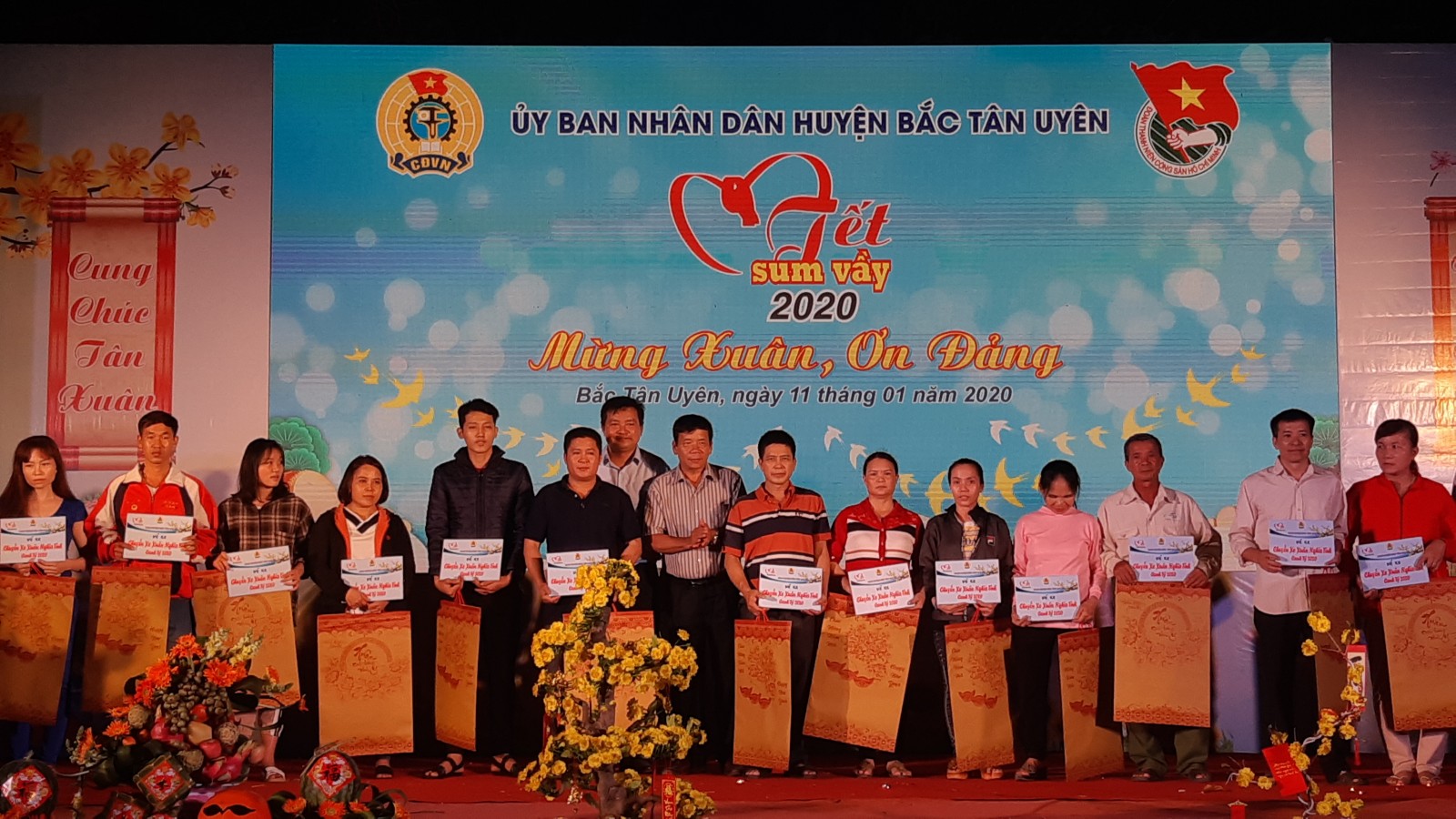 Leaders of North Tan Uyen district offer gifts to laborers in the "Gathering in Tet holiday" program 2020
In addition, the district has also taken care of the local people via many other significant activities such as offering gratitude, charity houses; donating bicycles to poor pupils…Le Cong Nguong, a revolutionary contributor in Tan Dinh commune's Thieng Lieng hamlet has just been given a gratitude house of 60 square meters with a total expense of VND120million, including VND80million from Binh Duong Lottery One-Member Co.Ltd. and the remainder from his family.
Whilst, Mai Hoang Anh Thu, a pupil of Le Loi high school in Hieu Liem commune has just received a bicycle from the district. In September, 2020, the district also donated 9 bicycles, funded by Maxim Packing Co. to poor pupils in communes of Lac An, Hieu Liem, Tan Lap, Tan My and Dat Cuoc.
Le Huynh Le, Head of North Tan Uyen district's Division of Labor, War Invalids and Social Affairs said that over the past time, the district's People's Committee set up steering committees to implement national target programs; issued programs, plans and solutions to ensure the local social welfare. Along with taking good care of policy beneficiaries, the district supported poor and near-poor households to escape poverty; well realized child protection and care programs; paid more attention to vocational training and job introduction for rural laborers, public healthcare, education…
Determined to reduce poverty sustainably
North Tan Uyen district has carried out 7 policy credit programs for poor and near-poor households, pupils and students with difficult circumstances…Apart from loan support, the district has organized classes on vocational training, introduced jobs to the targeted people. Over the past 9 months, the district introduced jobs to more than 3,400 laborers and opened 10 classes on vocational training with 233 learners.
The district has also realized policies on credit, healthcare, education, vocational training, job creation…for poor and near-poor people. In the 2016-2019 period, there were 106 poor households escaping from poverty or 156% of the set target. Tran Van Phuong, Vice-Chairman of the district's People's Committee said that the district has seen the national target program on poverty reduction as a long-term strategy, so the local authorities at all levels need to further have good coordination to well realize the program. The district's relevant cadres also need to actively recheck and boost the implementation of the promulgated projects, helping the poor to rise up, contributing to effectively realizing the local social welfare policies.
Reported by Minh Hieu-Translated by K.T