In the first 2 months of 2021, Binh Duong province faced many difficulties and challenges, due to having a number of Covid-19 cases in the community. But with the efforts by the local administration, people and business community, the province's industrial production was still maintained and reached development in the new context.
Many economic targets up
After the Tet (Lunar New Year) holiday, province-based enterprises have resumed operations. This year, the whole province had 44 enterprises, including 8 outside the industrial parks (IPs), 36 in the IPs with nearly 6,800 employees engaging in production and business through Tet to ensure the supply of goods for orders while joining hands in Covid-19 prevention and control.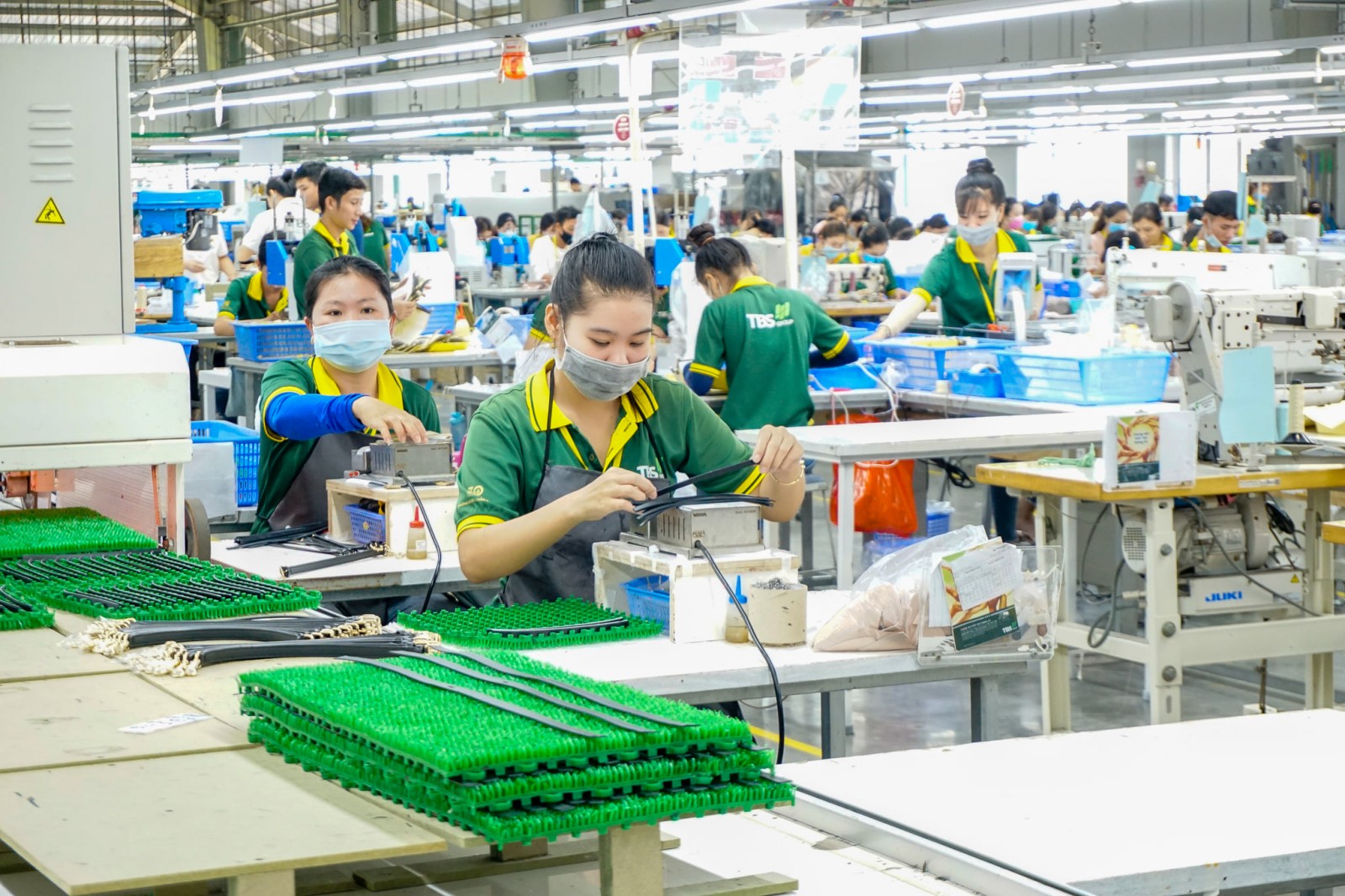 Province-based enterprises have been proactive in preparing for contingency plans to minimize risks and losses, take advantage of opportunities to boost production and business activities in the new context
According to Hoa Sen Group, the company's export activities still happened normally at its factories across the country during the Tet holiday (mid-February 2021). Many shipments were sold to foreign markets. In Binh Duong province, the group exported high-value galvanized steel sheet shipments to the US, Mexico, Europe, and Southeast Asia countries ... This is a good sign on the first days of the Lunar New Year 2021, promising a full new year full of prosperity for the group and the steel industry of the province.
Although Covid-19 pandemic is still complicated, with experiences gained from pandemic prevention and control in 2020, province-based enterprises have proactively come up with contingency plans to minimize risks, damage while taking advantage of opportunities to boost production and business activities in the new context. In general, they in February maintained stable production-business activities and ensured workers' health.
Upon this, the province's economic situation in the first 2 months of 2021 also showed signs of prosperity. According to provincial Department of Industry and Trade (DoIT), the province's index of industrial production increased by 6.02% over the same period last year. Of these, the production index of the mining industry increased by 14.98%; processing industry by 5.66%; production and distribution of electricity, gas, hot water, steam and air conditioning by 19.99%; water supply, waste management and treatment, water by 18.12% ... The province's export turnover during the period was estimated at more than US$ 4.82 million, up 29.6% over the same period last year. Of these, the domestic investment sector gained US$859.7 million, up by 16.7% while the foreign investment sector obtained US$3,963.5 million, up 32.8%.
According to Nguyen Thanh Toan, Director of provincial DoIT, key export products such as wooden products, garment-textile items, computers, electronic products and components ... are making good use of free trade agreements (FTAs) signed to expand international trade and new export markets.... Many enterprises have boosted online sales through global online sales channels, which is expected to continue getting many large orders, promoting the local export turnover in the first months of 2021.
Further maintaining growth momentum
In 2021, the province has set a target of reaching 8.5% and above in economic growth, greatly continuing to the economic growth of the whole country. According to Mai Ba Truoc, Director of provincial Department of Planning and Investment, the province has implemented many solutions to best fulfill the set targets amid Covid-19 pandemic. The province will continue actively grasping the real situation of enterprises in order to put forward timely solutions for them; make efforts in reforming administrative procedures, improving the local investment climate, which is seen as a goal with no stops to attract investors ...
In 2021, along with actively regaining the growth momentum of industries and fields deeply affected by the pandemic, the province has further promoted industrial manufacture so that it will continued being a growth engine. Provincial People's Committee has set out 10 key tasks and solutions in order to complete 33 targets of 2021. Particularly, the province will further implement the "dual goals" of the Government; promote economic restructuring in association with transforming growth models, improving productivity, quality, efficiency, self-control and competitiveness of the economy based on science and technology, innovation; reduce the time of dealing with administrative procedures on investment to shorten the time to market and improve efficiency on management of public investment plans, attract social investment resources, stimulate domestic consumption demand…
Nguyen Hoang Thao, Vice-Secretary of provincial Party Committee, Chairman of provincial People's Committee said that the province is determined to further promote Covid-19 prevention and control. Disease in order to maintain a safe and stable locality in a "new normal" state. All the authorities, sectors and localities of the province continue closely following the economic growth scenario of the province to compare, evaluate, and implement solutions to fulfill the set targets. The difficulties and challenges ahead require all authorities and sectors of the province to further promote their solidarity, dynamism, creativity, and take the lead in the implementation of socio-economic development tasks in 2021.
Reported by Ngoc Thanh-Translated by K.T