After the Covid-19 break, preschool and primary school pupils in the province returned to school yesterday, March 1. After many days away from teachers and friends, they were looking forward to going back to school, so teaching activities at these two levels quickly went into order.
Guaranteeing safe distance
Covid-19 prevention and control at province-based schools was strictly carried out when pupils returned to school. All parents who bring their children to school do not enter the school, due to being announced previously. The organization of picking up and dropping off children at preschool as well as the entry and exit times of primary school pupils also differ from 10 to 15 minutes. Under the instruction of the local training-education sector, schools perform body temperature measurements for pupils, teachers, administrators and staff before entering the campuses and classes. Especially for primary schools, and kindergartens, only those with mandates can enter the campuses. Schools also arrange seats for pupils with appropriate distance, monitor and remind pupils, teachers to ensure distance outside classes, offices, wear facemasks properly, often wash hands often with soap, do not share personal belongings ...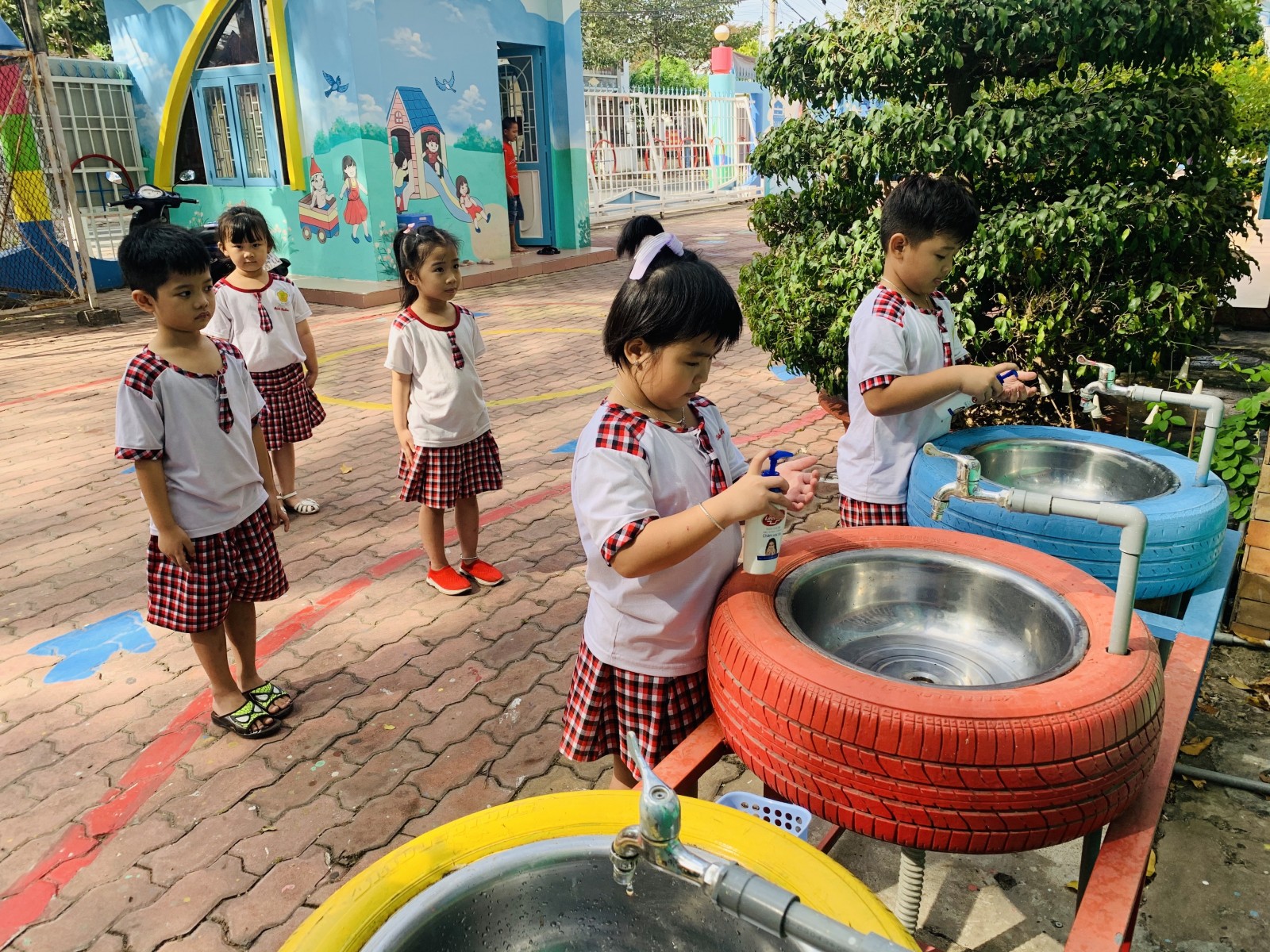 Children at Doan Thi Lien Kindergarten in Thu Dau Mot City wash their hands before going to class
At Phu Hoa 1 Primary School in Thu Dau Mot City, all cadres, teachers and staff were present at the school to do assigned tasks such as dividing pupils, checking body temperature, guiding pupils to wash their hands by hand sanitizer ... at 6 o'clock yesterday morning. Back to school, pupils were very happy, but they still followed teacher's instructions about Covid-19 prevention and control. According to Mr. Nguyen Ba Phuong, Principal of the school, there are differences in applying distance and play time of pupils in different grades. The same goes for meal times. In the past, students had 2 shifts for meals, now the school organizes 3 shifts for meals, and at the same time teachers reminded pupils not to talk during the mealtime. After eating, they have to return to their classrooms to ensure Covid-19 prevention and control.
For preschool children, they also have good cooperation with teachers on the first day of returning to school. At Doan Thi Lien Kindergarten in Thu Dau Mot City, children obediently waited for teachers to check body temperature, instruct how to wash hands and then entered to classrooms. The school now has 4 thermometers and welcomes children with multiple gates so they don't have to wait long. Ms. Huynh Thi Hong Nguyet, Principal of the school, said: "We are delighted when children back to school have integrated well. On the first week, teachers will stabilize the order for children, and at the same time, give them the school's next educational programs. In addition, Covid-19 prevention and control have also been carried out in parallel with activities of child care and education ".
Ensuring safety and sanitation for schools and classes
To ensure Covid-19 prevention and control, provincial Department of Education and Training has issued many documents directing schools to map out plans for this task. One of the contents is to ensure school hygiene before pupils return, when they come to school, end each lesson ... Strictly implementing the direction of the local training-education sector, each school has set up a plan for Covid-19 prevention and control in the next context. Schools have organized environmental sanitation at their campuses, ensured material facilities and medical equipment such as body temperature measuring equipment, antiseptic water, soaps, hand sanitizers… to serve the fight against Covid-19 pandemic.
Meanwhile, Phu Hoa 1 Primary School has maintained sanitization for its campus and classes during the time when pupils stop coming to school. When pupils return to school, the school has continued making sanitation and disinfection, recheck antiseptic water, soaps and other necessary items for Covid-19 prevention and control.
Dinh Phuoc Primary School in Ben Cat town is very clean when pupils go back to school. According to the school's managing board, sanitary staff disinfect the school's classrooms and campuses every day. Every week, teachers also clean and disinfect tables and chairs, bringing safety for pupils during their time at school.
Regarding Covid-19 prevention and control at schools, Ms. Nguyen Thi Nhat Hang, Director of provincial Department of Education and Training said that the sector spoke highly of schools' sense of responsibility in the implementation of solutions against the pandemic. In the coming time, schools need to mobilize all resources to seriously implement Covid-19 prevention and control, ensuring safety for teachers and pupils. In addition, schools need to strengthen communication and education on Covid-19 prevention and control among pupils, teachers and staff; strictly carry out body temperature measurement and wash hands by hand sanitizers before entering school campuses. They also need to prepare additional medical masks, arrange more soap bars, hand sanitizers in toilets and hand washing areas…Moreover, leaders of schools need to further direct, inspect and urge the implementation of medical declarations through the applications of "Covid Safety", Bluezone ... in accordance with the instructions and recommendations of the healthcare agency.
Reported by Anh Sang-Translated by K.T