In 2020, provincial Mobilization Board of the Day for the Poor and its branches have made efforts in propagandizing and mobilizing people from all strata, donors to raise money for the local Fund for the Poor. From the fund collected, they organized many practical activities for poor people, contributing to well realizing the local social welfare policies…
Practical support for the poor
A delegation of provincial Mobilization Board of the Day for the Poor, led by Tran Thi Kim Lan, Vice-Chairwoman of provincial Fatherland Front Committee (FFC) has just visited and donated VND10million from provincial Fund for the Poor to the family of Nguyen Thi Tuyet Mai with an extremely difficult circumstance in TDM city's Dinh Hoa ward.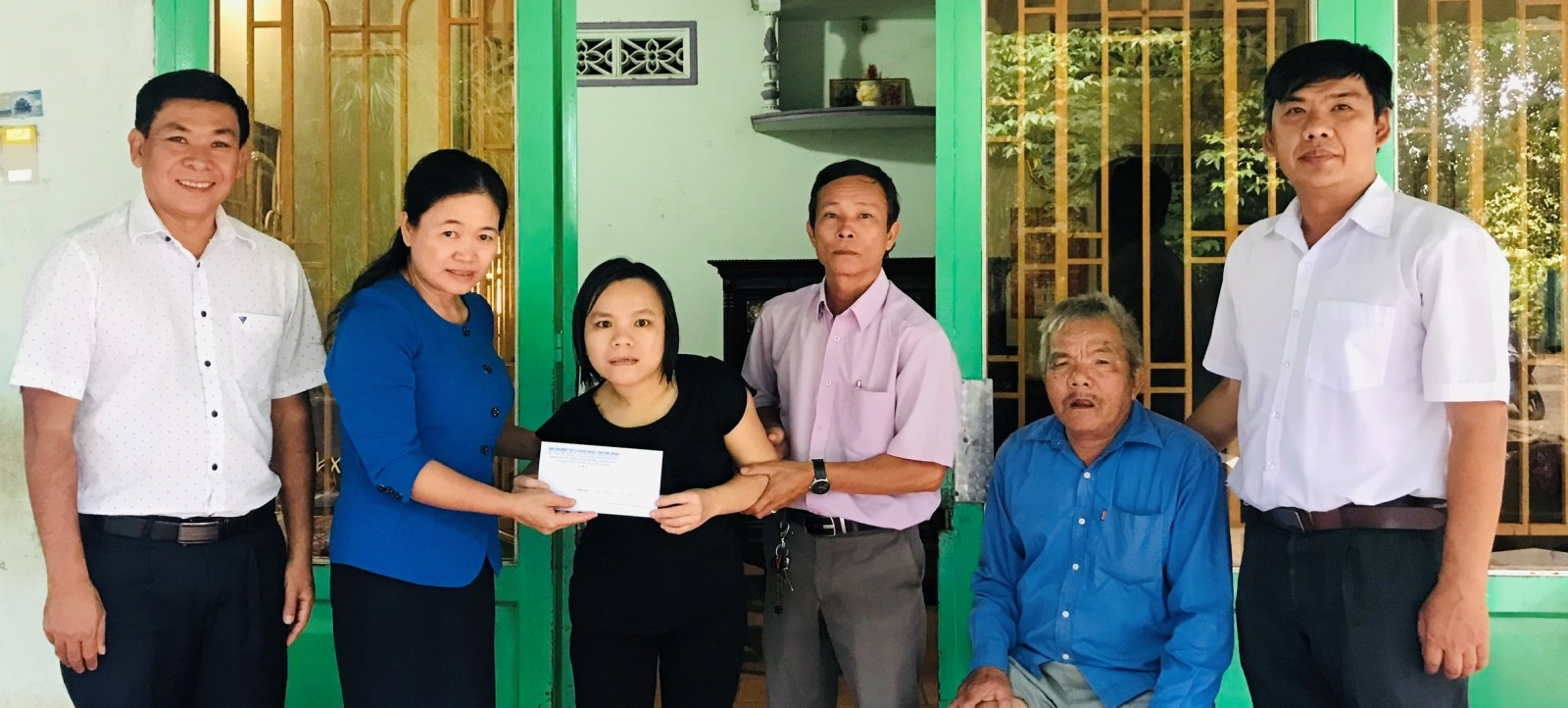 Provincial Mobilization Board fo the Day for the Poor visits, offers financial support to a needy resident in the province
Provincial FFC in collaboration with provincial Department of Labor, War Invalids and Social Affairs also implemented the 2nd stage of supporting audiovisual equipment for needy people as stipulated. As a result, provincial Mobilization Board of the Day for the Poor worked with localities to offer 565 sets of TV to 565 poor households with a total value of nearly VND2.8billion at the great national unity festival 2020.
Contributing to ensuring social welfare
Under the local program on poverty reduction, movement of helping each other in economic development, provincial FFCs at all levels coordinated with their member organizations to develop loan groups without interest rates, support nurslings and breeding animals for poor households to rise up and stablize their lives.
Provincial FFCs at all levels also visited, donated gifts to policy beneficiaries, revolutionary contributors, poor people…; provided free medical check-up, medicine for the poor; gave gifts for workers with extremely difficult circumstances…with a total expense of more than VND280million. They together with member organizations and authorities at all levels continued well realizing policies on social welfare, preferential policies for revolutionary contributors, ensuring the local social welfare and sustainable poverty reduction.
Mrs Lan said that the above results came from the efforts by Party organizations in instructing the activities of the Mobilization Boards at all levels, thereby effectively carrying out movements and the campaign of "All people consolidate to build civilized urban and new-style rural areas"; well realizing policies taking care of people from all strata…
According to statistics, provincial Mobilization Board fo the Day for the Poor and its branches in 2020 collected more than VND15billion from organizations and individuals. From the money, they organized such practical activities as building, upgrading "great unity" houses, supporting the poor in economic development, giving healthcare for the poor, offering help to the offspring of needy households…
Reported by Hong Thuan-Translated by K.T