On the morning of June 6, the People's Committee of Vinh Phu ward in Thuan An city coordinated with the local Fatherland Front Committee to deploy a "rice ATM" program named "Shared rice" to support people affected by Covid-19 pandemic.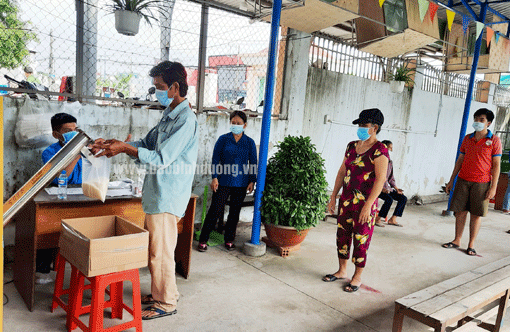 People in Vinh Phu ward are happy when receiving rice from the "Shared rice" program
Accordingly, recipients are poor households, workers at lodging facilities, and lottery ticket sellers with difficult circumstances. Each of them will receive rice once a day with the amount of 2kg from 8 to 10:30 am and from 14 to 16 pm.
Leader of Vinh Phu ward said that so far, the program has received 1.6 tons of rice and 120 gifts, including noodles and soy sauce, from donors. The "rice ATM" program is expected to operate within a week. Depending on the amount of rice supported and the situation of the pandemic, the operational time of the program is likely to be extended.
Reported by Dinh Thang-Translated by K.T