So far, the supply of goods in the province has been very abundant with stable prizes, sufficiently meeting people's demand for consumption. Some supermarkets have resumed operation. Traditional markets have also operated early with essential products like meet, fish, vegetables, fruits…
Abundant supply of goods
Nguyen Thanh Toan, Director of provincial Department of Industry and Trade (DoIT) said that the supply of goods at province-based supermarkets, convenient stores before, during and after the Tet holiday has been ensured with stable prices at people's demand for consumption.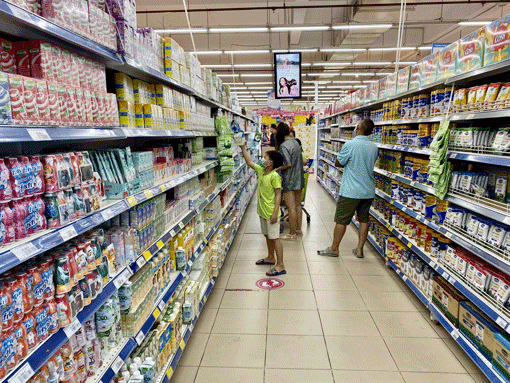 Commodities at province-based supermarket are very plentiful, well satisfying people's demand for shopping
Province-based supermarkets have also worked with providers to stabilize market prices. According to Vu Thanh Truc, Director of Co.op Mart Cho Dinh said that the prolong Covid-19 pandemic has affected production-business activities, so the supermarket has been proactive to stockpile goods very early. The supermarket has also prepared many methods on goods transportation and distribution, ensuring the abundant supply of essential goods with stable prices.
Whilst, representative of Big C Binh Duong said that the supermarket was proactive to map out a plan ensuring the abundant supply of goods, ensuring people's increasing demand for consumption at year-end. Earlier, the supermarket worked with providers and signed contacts with them, guaranteeing the supply of goods till late February, 2021.
Provincial DoIT has also coordinated with relevant units, especially had close coordination with enterprises to take solutions ensuring the supply of goods with stable prices amid the complicated development of Covid-19 pandemic. Meanwhile, some markets in the province have resumed operation, serving people's demand for consumption with major goods being food and foodstuff sold at stable prices.
Covid-19 prevention, control ensured
Over the past time, three areas in the province, including TDM city, Thuan An city and Phu Giao district, were put under large-scale lockdown, due to having cases testing positive for the coronavirus. Under the instruction of provincial People's Committee, provincial DoIT teamed up with the People's Committees of districts, towns, cities and enterprises in the province to opportunely provide people living in the isolation areas with essential goods.
According to Mr.Toan, ensuring the supply of necessities for people living in the isolation areas of the province, especially during the Tet holiday was drastically instructed by the sector. Particularly, supplying essential goods for around 388 households with 1,005 people in the isolation area of An Binh commune's Ca Na hamlet in Phu Giao district was done by nearby markets and groceries, basically meeting people's demand.
In the quarantine area of Phu Hoa ward in Thu Dau Mot city, there were around 2,533 households. They were supplied necessities by the "Bach hoa xanh" chain, Co.opMart, Phu Hoa market, Vinh Son market and some groceries. Whilst, there were around 1,813 households with 3,734 people in the quarantine area of the Ehome 4 apartment block in Thuan An city's Vinh Phu ward. Supplying necessities for them was done by Aeon Mall, convenient stores and groceries from surrounding areas.
Reported by Tieu My-Translated by K.T