Over the past time, Thuan An city's Young Pioneer Organization (YPO) attached special importance to the movement of "Vietnamese children emulate to implement 5 teachings of Uncle Ho" with focus on educating morality, lifestyle among children, improving their material and spiritual lives…
Emulating to implement 5 teachings of Uncle Ho
To promote the movement of "Vietnamese children emulate to implement 5 teachings of Uncle Ho", Thuan An city's YPO attached special importance to propaganda and education about the history, revolutionary tradition of the nation, the Communist Party of Vietnam, the Youth Union and the locality via many practical programs over the past time.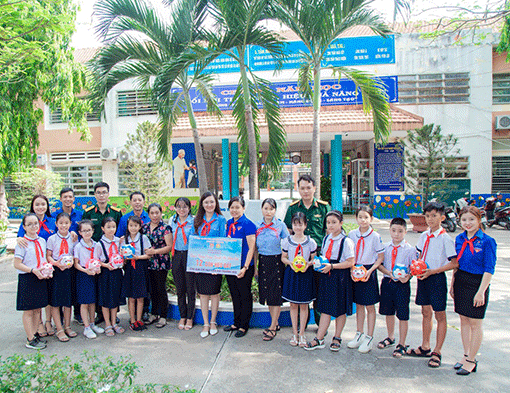 Last year, Thuan An city's YPO and its branches organized a journey of millions of milk glasses, gift baskets sharing love for pupils with difficult circumstances
Last year, one of works, deeds effectively realized by the city's YPO is the "Mang Non" (Young shoot) work of "Vietnam's sea and islands in my heart" with such significant contents as providing the map of "Vietnam's sovereignty over sea, islands, continental shelf, exclusive economic zone" for YPO detachments; organizing journeys to "red addresses", journeys "Following the tradition for sustainable future", "I love my motherland" in association with activities marking the nation's great holidays; holding programs visiting heroic Vietnamese mothers, policy beneficiary families; sharing people with difficulties circumstances…
Especially, the city's YPO also strengthened the movement of "Good words, good deeds"; organized meetings on "Building up good friendship, saying not to school violence", "Every week with a good story, a bright example, a good book"…, aiming to propagandize and educate children about school discipline, awareness of obeying the law, preventing social evils, keeping traffic safety-order…
The city's YPO and its branches also organized 12 "Working as a soldier for a day" programs with the participation of nearly 1,500 children…, thereby helping them love their homeland more.
Comprehensive care
Along with education, the city's YPO has always paid attention to child and teenager care. Over the past years, the model of "Spring tree for children" brought practical efficiency. It not only helped children with difficult circumstances enjoy a warm Tet, but also contributed to educating children about love, share with those who have difficult circumstances. In the last academic year, the city's YPO offered more than 5,000 gifts, scholarships to needy children through the fund of the "Spring tree for children" model.
In addition, the city's YPO awarded "Ho Van Men" scholarships to poor-but-excellent pupils, offered beloved "lucky money" to pupils at charity classes, child patients at hospitals; gave thousands of lanterns to children with difficult circumstances and young workers'offspring under the program of "Giving lanterns-lighting dreams". Last year, the city's YPO and its branches also organized many significant programs raising funds for poor pupils; held weekend playgrounds, art performance exchanges, sports festivals for children, helping them relax after studying hard.
Pham Nguyen Phuong Tha, Secretary of Thuan An city's Youth Union, Chairwoman of the city's YPO said that with the motto towards grassroots level, the city's YPO diversified activities, movements at its detachments; regularly changed operational forms towards diversification in line with children's demand, creating playgrounds in school, boosting extra-curricular activities, educating life skills among them, contributing to improving the quality of YPO activities in school…
Reported by Ngoc Nhu-Translated by K.T