Vo Van Thuong, Politburo member and permanent member of the Party Central Committee's Secretariat, has affirmed the Communist Party of Vietnam (CPV)'s foreign policy of attaching importance to relations with neighbours, regional countries and strategic partners, including Singapore.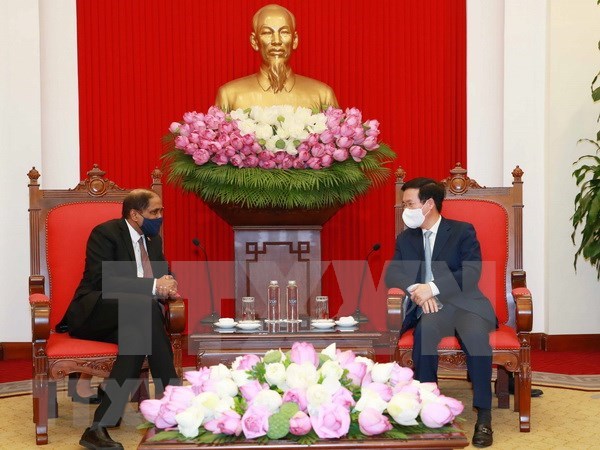 Vo Van Thuong, Politburo member and permanent member of the Party Central Committee's Secretariat (right) and Singaporean Ambassador Jaya Ratnam
During a reception for newly-appointed Singaporean Ambassador Jaya Ratnam on June 16, Thuong lauded the positive development of Vietnam-Singapore relations across spheres over the past time.
Vietnamese and Singaporean leaders have maintained the exchange of visits, demonstrating the trusted political ties between the two countries, the official said.
Thuong also highlighted Singapore's successful investment in Vietnam, helping the latter spur its socio-economic development, and suggested the two sides work to improve the quality and efficiency of Vietnam-Singapore Industrial Parks (VSIP).
He alos rejoiced at the strong development of the bilateral collaboration in education-training, and culture-tourism.
The two countries should join ASEAN member nations' efforts in settling regional issues in line with international law and the 1982 United Nations Convention of the Law of the Sea (UNCLOS), he said.
For his part, the ambassador spoke highly of the fine development of the Vietnam-Singapore strategic partnership and noted his hope that the two countries will take measures to enhance the bilateral ties in the time ahead.
He suggested solutions to strengthen bilateral economic links, including improving the operational efficiency of VSIPs and encouraging Singaporean firms to increase investments in innovation, creation and digital economy in Vietnam.
The ambassador conveyed the invitation of Gan Kim Yong, Chairman of the Singaporean People's Action Party, to the Vietnamese official to hold online talks at an appropriate time.
Thuong expressed his delight at the fruitful cooperation between the two Parties over the past time, thanked the invitation and assigned competent agencies to arrange the online talks./.
VNA