Politburo member, Chairman of the Party Central Committee's Economic Commission Tran Tuan Anh attended the 24th St. Petersburg International Economic Forum (SPIEF) 2021 which is being held in Russia in both in-person and online forms.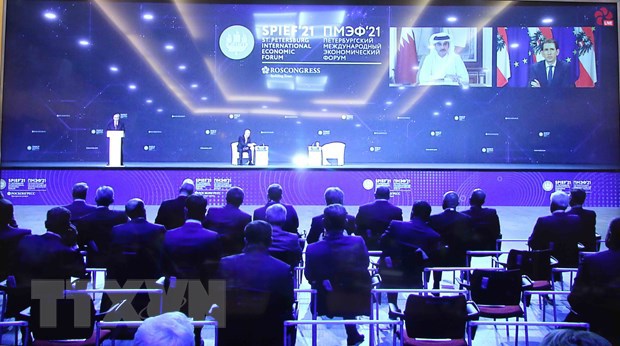 The 24th St. Petersburg International Economic Forum (SPIEF) 2021
The Vietnamese official shared Vietnam's experience in COVID-19 prevention and control at the forum, empemphasing that thanks to the leadership of the Communist Party of Vietnam, the drastic and effective management of the Vietnamese Government, and the unity and determination of the entire political system and the people, the country has successfully realised the dual goal of containing the pandemic and maintaining economic development.
Vietnam remains steadfast in its opening policy, actively and proactively integrating into the international economy, Anh stressed.
The country successfully assumed its role as Chair of ASEAN 2020, he said, adding that Vietnam has also promoted multilateral cooperation frameworks, and made important contributions to stabilising global supply chains.
The most typical example is the successful signing of the Regional Comprehensive Economic Partnership (RCEP) Agreement, opening up the world's largest free trade area, helping to further improve ASEAN's role and international prestige in the international arena, he noted.
The official called for global cooperation in preventing and controlling the COVID-19 pandemic, sharing vaccines, strengthening multilateral trade cooperation to avoid disruption in global supply chains, and in eliminating poverty and poverty relapse in the world.
With the theme "Together Again - Economy of New Reality", the forum focused on a number of groups of issues such as the post-pandemic world, Russia's development tasks by 2030, global social development issues, digital technology, solutions and opportunities for businesses, and safety of medicine.
Russian President Vladimir Putin delivered a speech at the plenary session on June 4./.
VNA