Today (June 21) is Vietnam Revolutionary Press Day, a day to honor the "soldiers" on propaganda front. When writing this article, the writer has just returned from the United Arab Emirates (UAE) 5 days after the journey together with Vietnamese football team to conquer the ticket to the final qualifying round of the World Cup 2022 in Asia. Sitting in a concentrated medical isolation room, now I have the opportunity to reflect on the journey on a foreign land being full of risks, hardships but also very proud.
It is very normal for sports reporters to accompany Vietnamese football teams at major tournaments. Those are working trips under normal conditions. But the last trip to the UAE was completely different when we set off amid the resurgence of Covid-19 pandemic. Initially, according to the list of visa granted by the UAE, there were 26 reporters. However, on the day of departure, only 14 reporters accompanied coach Park Hang Seo and his trainees. In order to board Bamboo Airways' plane to Dubai, each person must have all 5 documents, including visa, passport, foreign travel insurance, return ticket and PCR test paper with negative results for SARS-CoV-2 within 48 hours prior to the flight.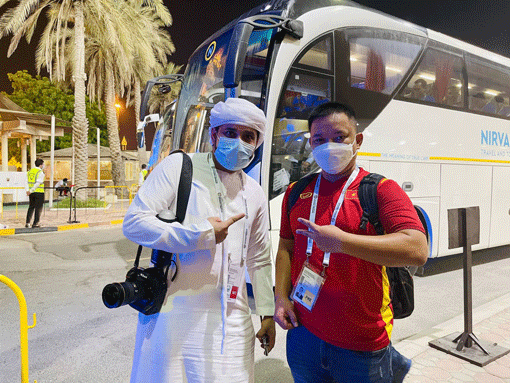 Reporter Thai Hai (right) takes a souvenir photo with his colleague from UAE Television at Zabee stadium
Binh Duong newspaper is the only local Party newspaper with a reporter on this trip with desire of conveying the latest information about the Vietnamese football team to the local people. Five days before leaving, I got the first shot of Covid-19 vaccine. In the delegation, there were also nearly 6 other reporters vaccinated. Going to the UAE, because of difference in time zones with the local time here that is 3 hours slower than Vietnam, so we had to get up to write articles for printing newspapers from 5am. As for other information, they were transferred to e-newspapers for processing and publication.
From June 3, when the Asian Football Confederation (AFC) began managing from training sessions to matches, reporters who wanted to enter football grounds for working were forced to have negative PCR test results for SARS- CoV-2. These results were only valid for 48 hours. Thus, if wanting to inform 3 training sessions of Vietnamese football team, a press conference before the match and the date of the match, each reporter must go for testing 2 times before each match. In total, we underwent 6 such tests with the cost for each time at nearly VND 1 million, excluding taxi fare for moving at nearly VND 400,000.
On the night of June 14, according to information from Bamboo Airways, in order to get on a plane to return home on June 16, reporters must have negative PCR test results for SARS-CoV-2 within 72 hours. After giving samples for testing, all reporters did not eat well, sleep peacefully when waiting for the results from the hospital. Earlier on June 11, a reporter of Dan Viet Newspaper was unfortunately when having positive test result for SARS-CoV-2, so our worry was natural. Finally, all people's test results were negative.
There were hardships and challenges in the UAE for 22 days, but all our sorrows and sweats were not wasted. This was because coach Park Hang Seo and his trainees made a history with ticket to the final qualifying round of the 2022 World Cup in Asia. On the occasion of Vietnam Revolutionary Press Day (June 21), I would like to wish my colleagues good health, steady hands with pens and cameras in order to further convey the latest and most accurate information on all aspects of social life to readers.
Reported by Thai Hai-Translated by K.T