Credit flows in the province increased significantly in the first months of 2021. State Bank of Vietnam (SBV) - Binh Duong branch is focusing only on capital flows in some areas of production and business, strictly controlling investment loans in potentially risky areas.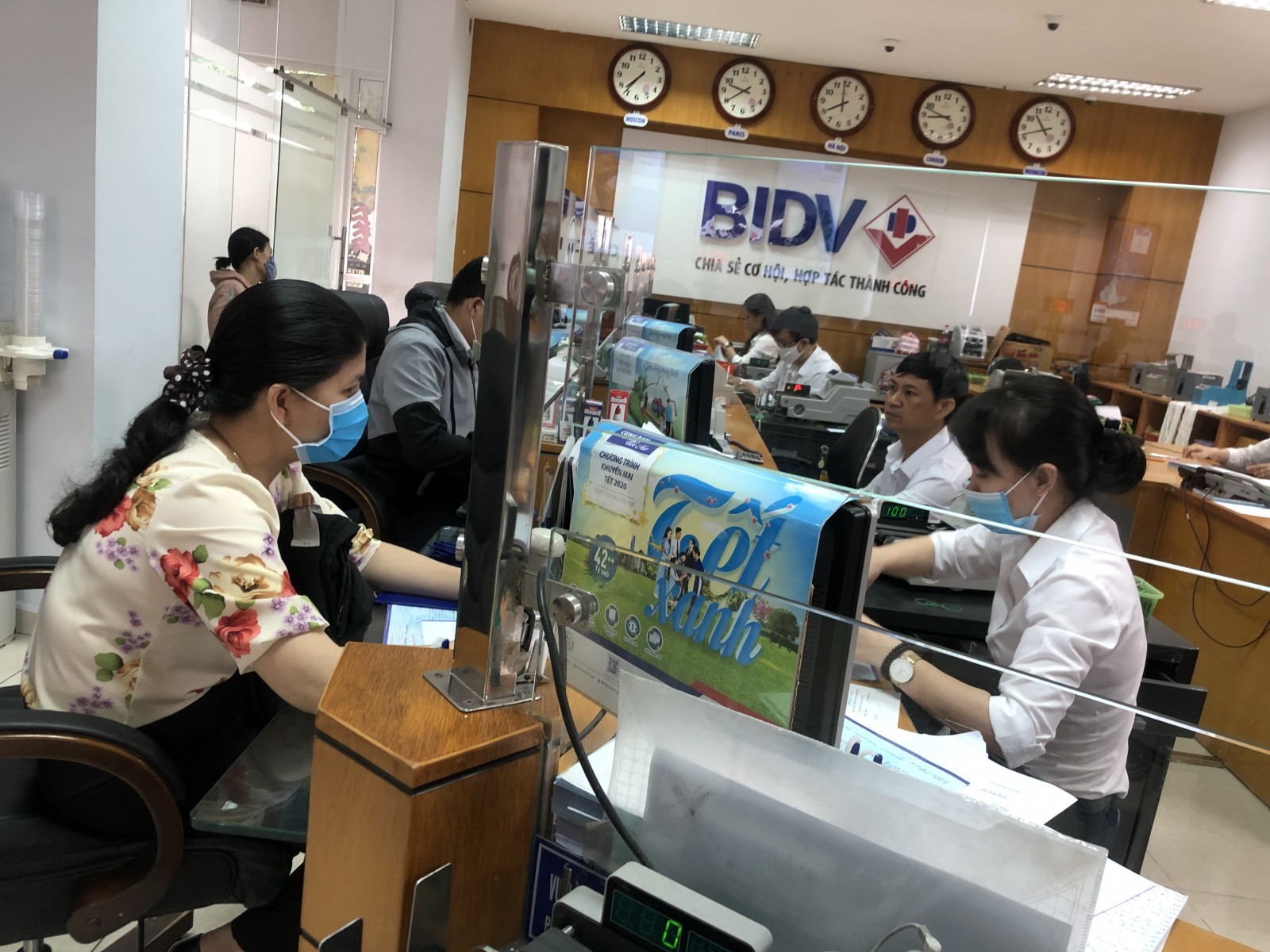 Commercial banks are more cautious when lending to non-manufacturing sectors. In photo: Customer performs loan procedures at BIDV - Binh Duong branch.
To tightly control cash flows of real estate speculation
At Vietcombank Binh Duong, procedures for mortgage home loans with preferential lending interest rates. Namely, 72-month loan has fixed interest rate in the first year of 7.3%/year and fixed interest rate in 24 months of 8.4%/year. Regarding to the increasing trend of interest rates, this bank staff said that the interest rate had been adjusted to increase slightly, because the bank tightly controlled lending amidst epidemic situation and hot real estate market… "Apart from increasing interest rates, Vietcombank system also strengthened strict appraisal of loan applications in accordance with requirements and regulations", said the credit official.
In addition to raising interest rates, some commercial banks also put forth quite strict regulations for real estate loans. Tran Ngoc Linh, Director of BIDV - Binh Duong branch, said that BIDV did not advocate developing real estate loans. BIDV Binh Duong's lending rate in this field currently accounts for just over 2% of the total outstanding loans. Their eigible borrowers are customers, who borrow to buy houses, buy their first or second house, whose income sources to pay debt are from salary and wages. "We almost do not grant loans to individuals and businesses to speculate", Linh said.
Similarly, Lai Thi Bich Thuy, Deputy Director of HDBank Binh Duong, said that cash flows into real estate are relatively large and show signs of price fever. If cash flows poured into real estate to buying houses for living, buying lands for production and business activities, it will create real added value for real estate. On the contrary, cash flows into real estate do not create added value, but only for speculation purposes, there will be adverse effects on the market and people in real need of housing. "Therefore, we are very cautious in managing, appraising and disbursing for customers. Speculative real estate purchases and sales (less than 1 year) that are strictly controlled through the notary system, and have specific measures implemented", Ms. Lai said.
To concentrate capital for production and business
Although the COVID-19 situation is complicated, Binh Duong is a province attaining high economic growth rate in the country, and also the leading province in attracting investment. Those are the reasons for domestic and foreign investors to pay attention to real estates in Binh Duong, including industrial and civil real estates. Therefore, the real estate loan balance in the first quarter of the province tended to increase.
According to SBV Binh Duong, out of total outstanding loan of 23,404 billion VND, there are about 69,185 billion VND, accounting for about 30%, in the real estate sector and this tends to increase in the near future. Assessing this situation, Vo Dinh Phong, Director of SBV Binh Duong, said that credit is always the main focus of attention; credit development must go along with safety and efficiency, capital must be concentrated on production and business activities, especially prioritized sectors. For credit to high-risk areas such as real estate and securities, SBV has used tools to control risks, such as gradually reducing the proportion of short-term capital, mid- and long-term loans, applying a high coefficient of risk adjustment, limit loan balance… ...
Results show that the credit structure tended to change and shift to credit for prioritized sectors. In the first quarter of 2021, total outstanding loan in the whole province reached 233.404 billion VND, an increase of 14% y/o/y. In which, loan balance under the credit program for agriculture and rural areas was estimated at 73,277 billion VND, export loans were estimated at 15,508 billion VND, loans to support SMEs were estimated at 31,186 billion VND, loans to support manufacture were estimated at 5,304 billion VND, loans of hi-tech enterprises were estimated at 638 billion VND. In addition, for non-production loans such as consumption (buying houses, cars etc.) reached about 17,904 billion VND, accounting for 7.7% of total outstanding loan. Currently, outstanding loan in this sector tend to level off, partly due to the impact of Covid-19 as well as the general difficult economic conditions, leading to the decrease of non-production loans.
According to Mr. Vo, the current credit activities in the area are in stable growth and in the right direction. However, SBV Binh Duong continued to direct credit institutions in the province to fully implement orientations of the State Bank and the Government to shift credit flows into production, business, and prioritized area; at the same time, banks should be careful when lending to risky areas to meet the requirements of safe credit growth in the whole system.
Reported by Thanh Hong - Translated by Ngoc Huynh