Vinh Loi War Zone Relic was ranked as a historical - cultural relic at provincial level, has received attention and investment of Tan Uyen Town, contributing to the education on revolutionary traditions for young generations. This is also a tourist destination that was recognized by the Provincial People's Committee and attracts thousands of visitors every year.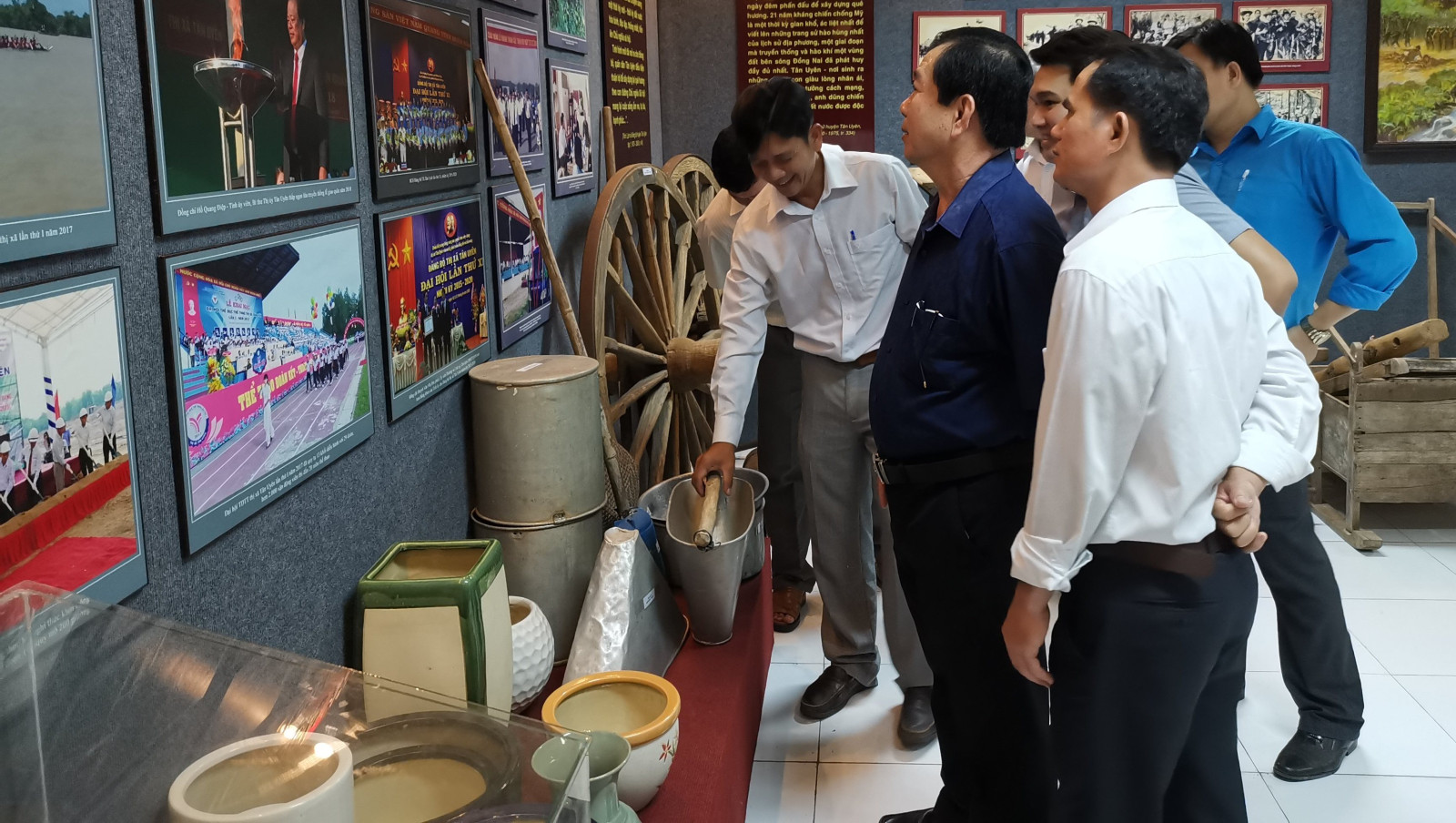 Vinh Loi war zone attracts more and more tourists to visit and learn about its history
The place imprinted with historic events
This relic is in Quarter 3 of Vinh Tan Ward, only about 5km from the center of Tan Uyen Town and about 3km from the Provincial Administration Center.
Vinh Loi War Zone was formed in 1946. In 1947, Chau Thanh District Party Committee (belonging to Binh Dien canton, former Thu Dau Mot province) was established at Vinh Loi base. After its establishment, Chau Thanh District Party Committee focused on building more Party committees and branches in Vinh Tan and other neighboring communes to directly direct the resistance movement.
During the two resistance wars against the French and American, Vinh Loi War Zone played a very important role, contributed a lot of personnel and materials to the revolution.
Overcoming the hardships and sacrifices, the army and people here both built and fought to protect the base, maintain and promote its role as a logistical base, a firm springboard in the local revolutionary movement; contributed to the victory of the two long-term national resistance wars, and finally, the historic Ho Chi Minh campaign in 1975, the Southern liberation, and the National Reunification Day.
Historical values associated with this war zone are the pride of the Party, people and armed forces of Chau Thanh district, Thu Dau Mot province in the past - Tan Uyen town, Binh Duong province today. Vinh Loi War Zone Relic was ranked and recognized by the Provincial People's Committee as a cultural and historical relic on December 7, 2010.
Connect to develop tourism
Nguyen Tan Phat, Head of Culture Information Office of Tan Uyen Town, said that Vinh Loi War Zone relic has a very convenient location, which connects districts, towns in the province and some neighboring localities, such as Ho Chi Minh City, Dong Nai province, Binh Phuoc province...; is a destination for historical tourism, where provides revolutionary traditional lessons for the young generation today and in the future. Tan Uyen Town identified this as one of the potential spots for tourism development.
To commemorate heroes' great merits at Vinh Loi War Zone in the two resistance wars, contributing to historical education for the people and young generations, and forming a tourist destination in Tan Uyen, since the beginning of 2012, Vinh Loi War Zone relic has been invested and upgraded by Tan Uyen Town with a scale of nearly 5.5ha.
On 22 Dec 2016, the project was officially put into operation. "The construction of Vinh Loi War Zone Relic is of great importance in preserving and promoting the value of relics, cultural heritage, and the tradition and ethics of "drinking water, remembering the source" of Vietnamese people. Every year, this relic welcomes thousands of visitors, especially youth union members, teenagers, and students," said Phat.
As coming here, visitors can directly see and hear the story of each project item, each has different feelings, but they are all very emotional, grateful to those who sacrificed themselves. Three-door gates, stele house, Vinh Loi war zone monument, memorial temple, traditional room... each contains great, emotional and proud historical meanings.
In addition to the above meaningful items, the relic site has other smaller facilities to serve visitors, such as: canteen, guest house, conference hall, management room, resort huts for visitors, amusement park, picnic area... Below the memorial temple (basement) is an area for artifact display of Tan Uyen Town Traditional House and a documentary cinema room for visitors.
At the end of 2021, Vinh Loi War Zone relic was recognized as a tourist destination by the Provincial People's Committee. To be recognized as a tourist destination of the province, Nguyen Tan Phat said that the office regularly organizes meaningful activities, provides services to attract visitors.
The Town Culture Information Office also restored the relic to be spacious, clean, beautiful, and to retain its most distinctive features.
Recently, Tan Uyen Town has connected destinations in the area to attract visitors. Vinh Loi War Zone Relic is determined by the local administration to play a very important role in connecting local destinations to serve tourists.
This is the first location introduced to visitors coming to Tan Uyen. After this destination, visitors will be connected to other tourist attractions in the town, such as meaningful cultural relics, experience eco-tourism areas, green fruit gardens...
Reported by Hong Thuan - Translated by Ngoc Huynh