During the difficult period, due to Covid-19 pandemic, hundreds of thousands of workers across Binh Duong province have quickly received timely support from the local authorities at all levels. Tens and hundreds of tons of food and foodstuffs were received and distributed to people in each alley, lodging facility in the whole province.
Warming heart of people in difficulty
At a small alley connecting to Le Hong Phong street in Phu Hoa ward's quarter 8 in Thu Dau Mot city, Mrs. Sau, on September 17, pushed her bicycle to the street after many months of not using it while holding the certificate of getting the first shot of Covid-19 vaccine as a travel permit in her hand. Her gesture looked very excited. Not only Mrs. Sau, many residents have felt a vibrant atmosphere that is gradually appearing after the most difficult moment that each resident had to go through.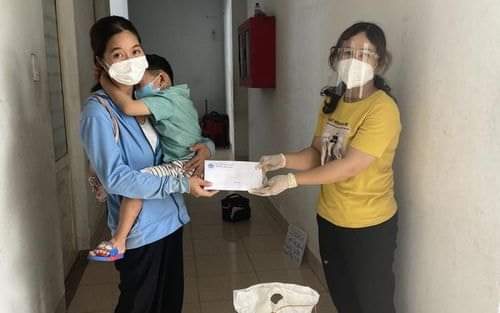 A female lodger gets subsidy
It is known that Mrs. Sau (Le Thi Sau) lelf the southernmost province of Ca Mau to Binh Duong and lived as a restaurant assistant before the pandemic. In the evening, she worked as a motorcycle keeper for a shop. She has a daughter who got married in Vung Tau, leaving her a 5-year-old grandson. She took care of her grandson with her very little salary. The pandemic has made her lost her job when she only had a few of millions of dong in her pocket. When the pandemic broke out, provincial People's Committee issued a document regulating that people in the province were not allowed to go out. Many checkpoints were also set up everywhere for pandemic control and prevention. At that time, she received support from the owner of the lodging facility with rental reduction by VND 300,000 per month. Someone also offered help of rice and vegetables to the needy women.
Sau's "diary" of anti-epidemic days was 3 months of staying in a lodging room less than 10 square meters. She did not have a TV or a smartphone at home, so she did not know much about pandemic information. She was very worried and did not know how long the pandemic would last. At the most difficult moment, she was quickly resolved by the locality to receive the subsidy of VND 1.5 million under the Government's Resolution 68. Provincial People's Council and People's Committee also continued issuing the Resolution No. 04 and Decision No. 12 on providing food, accommodation subsidies for people facing difficulties, due to the pandemic. Although not being much, VND 800,000 in subsidy from the province plus the previous subsidy, she could save a whole month's living for her and her grandson.
Doan Xuan Tri, (or called Tri Grab), from the Central Highlands province of Gia Lai), an unmarried young man who has just turned 23 years old, lives not far from the alley where I live. Every month, the GrabBike driver can earn about 10 VND million from his driving job. With such income, he had a very comfortable life. But, just sitting at home for 3 months, due to the pandemic, he worried about money for accommodation and food. Tri constantly updated information about Covid-19 cases in the area. One day, it was almost 19 o'clock, but there was no information, Tri messaged me and asked: "How about the pandemic today? Is it ok?" On the day of receiving 3 allowances for freelancer, lodging rental, and food, Tri happily called: "Today, I'm very happy because I received more than VND2 million, helping me be able to live for a month". Also like Mrs. Sau, Tri hangs around in his lodging room, updates information about the pandemic, hoping that the pandemic will soon pass to come back to work.
They are only 2 cases among hundreds of thousands of people who have faced difficulties for nearly 3 months of implementing social distancing in the province. Difficulties piled up, but with timely decisions of the province, support sources were quickly deployed to the local people. Nguyen Ngoc Hang, Deputy Director of provincial Department of Labour, Invalids and Social Affairs (DoLISA) said: "Realizing that the Government's Resolution No. 68 has some difficulties in application, provincial DoLISA has flexibly advised provincial People's Committee on issuing the Decision No. 09 to quickly simplify procedures so that hundreds of thousands of freelancers can soon receive subsidies. Then, the province has provided accommodation and food subsidies for lodgers, supported food for 11 "frozen and locked" wards, taken care of poor and near-poor households... under the directions of all-level authorities.
Timely support
Since the 4th outbreak of the pandemic, when hundreds of thousands of workers were "stuck" at lodging facilities and isolation areas, trade unions at all levels in the province have quickly managed to take the best care of their workers. Trade union officials have made efforts in mobilizing and receiving goods from organizations and individuals in and out of the province. They have called on the retired to contribute hundreds of thousands of pork floss jars to people at lodging facilities, isolation areas. Through hotlines, Zalo and Facebook groups of workers, trade unions at all levels provided necessaries for each family with the most difficult circumstance.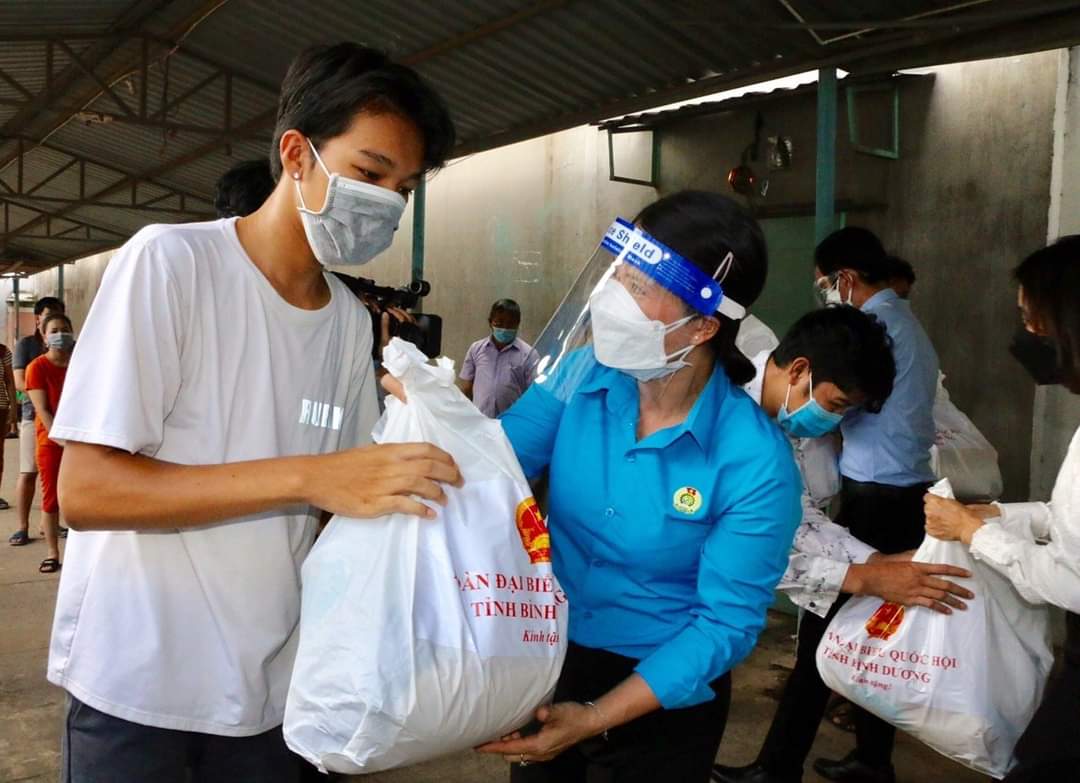 Leaders of provincial Labor Union distributes food to workers
In addition to receiving subsidies under the Government's Resolution 68 and support policies in terms of accommodation and food during the social distancing period, laborers across the province have also received other subsidiaries in accordance with the decision of the Vietnam General Confederation of Labor. Particularly, subsidies are for workers being F0, F1, F2 cases and those under the "3 on- site" production model. Provincial Labor Union has helped hundreds of cases from the local Fund for Workers with Extremely Difficult Circumstances… The above subsidies partially helped hundreds of thousands of workers step by step pass through the worst pandemic days.
Nguyen Thuy Loan, from central Quang Binh province, a worker of Saigon 2 Bungkook Company said that she got marriage and now has two children. For the past few years, she has left her children at home for her husband to take care of. Before the pandemic, she could earn VND6 million and VND7 million every month and sent VND 3 million to her husband to raise their children, regardless of necessary spending. "During the three-month social distancing period, I live by subsidies, food-foodstuffs and gifts from the local authorities, trade unions at all levels. Difficulties from the pandemic are indescribable, but I have been vaccinated against Covid-19. The company has also planned to resume operation in the near future, so I am really happy", she confided.
Possibly speaking that over the past few days, with the responsibility of all-level leaders in the province together with contributions by organizations, individuals in and out of the province, people in the province have step by step passed through the hardest period of the pandemic and are looking towards brighter days.
"Provincial People's Committee has planned to recover production for districts, towns and cities in the "green zone" and soon put factories back into operation. For workers in the "red zones" such as Thuan An city, Di An city or some wards of Tan Uyen town, provincial Labor Confederation will continue mobilizing support resources for workers so that they have enough food and necessities until the green day of the whole province", said Nguyen Kim Loan, Chairwoman of provincial Labor Union.
Reported by Quang Tam-Translated by Kim Tin