Media outlets in the Czech Republic, including the Czech News Agency (CTK), Czech Television (CT), and e-newspaper Halo noviny, ran articles on April 5 regarding the election of new leadership for the State, Government, and National Assembly of Vietnam.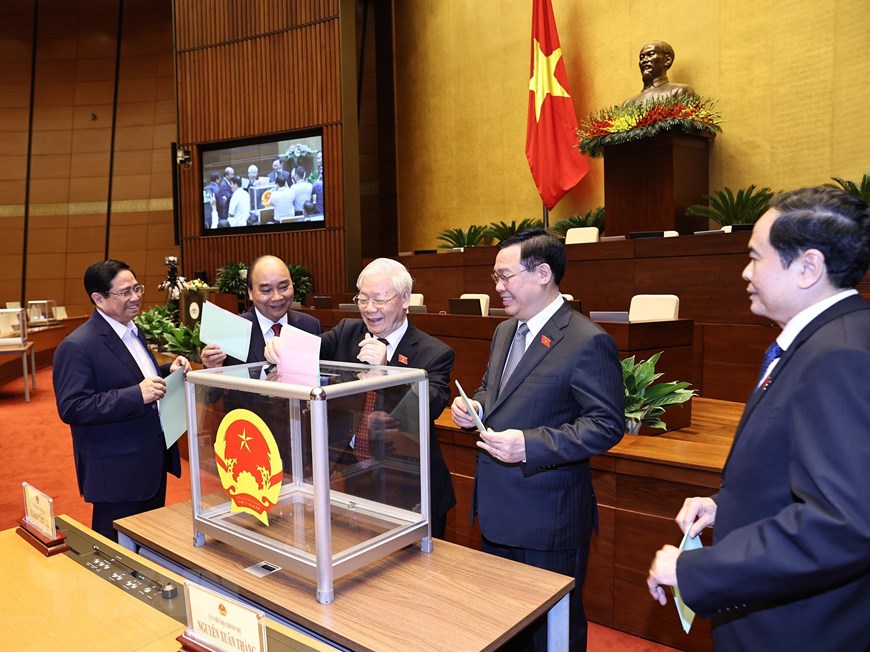 Vietnamese leaders cast ballots to elect a new Vice State President on April 6 afternoon
According to the CTK and CT articles, the new leaders have received a high level of confidence, possess rich experience in important leadership positions, and have played an outstanding role in concurrently containing the COVID-19 pandemic, sustaining economic development, and integrating the country into the global economy.
Vietnam was among the few countries in the world to post positive growth in 2020, the articles noted.
The Halo noviny article highlighted Vietnam's impressive achievements in COVID-19 response and economic development, adding that the new leadership is expected to continue helping the country make great socio-economic strides forward amid the pandemic's complex development around the globe and will also raise its stature in the world.
It wrote that, last year, despite the global economic contraction due to the pandemic, Vietnam was among the economies with highest growth in the world, at 2.91 percent. Notably, it is increasingly integrating into the global economy. With the signing of the EU-Vietnam Free Trade Agreement (EVFTA) in 2020, the country is emerging as an important trade partner of the EU, including the Czech Republic.
In particular, the articles said, the traditional friendship between the Czech Republic and Vietnam has continually been enhanced via mutual visits by leaders, including a trip to the Czech Republic in 2019 by then Prime Minister Nguyen Xuan Phuc, who is now State President.
Vietnamese people in the European country have also been integrating well into local society and acting as an important bridge in bilateral relations. Faced with the COVID-19 pandemic, the community has shown solidarity and actively helped local authorities and people cope with the outbreak from the very outset, such as presenting free face masks, meals, and drinks to frontline forces, according to Halo noviny.
The articles noted that with a new leadership in Vietnam, the time-tested friendship between the two countries is expected to see more progress./.
VNA