Currently, Covid-19 prevention and control at polling stations throughout the province is implemented seriously. Each locality has detailed plans and backup ones for isolation in case of the pandemic occurs. At the local concentrated isolation points, F2 and F3 cases will be streamed and voted earlier than F1 cases.
Setting up thoughtful plans
Thu Dau Mot city's Phu Hoa ward now has about 20 cases of F2 being isolated at home. On the day of the election, the ward's medical team will bring extra ballot boxes to each house so that these cases can vote in accordance with their citizenship. This will be applied for those who have disabilities. The ward has 9 quarters and 11 polling stations. The ward's People's Committee has a specific plan for Covid-19 prevention and control on the election day, May 23.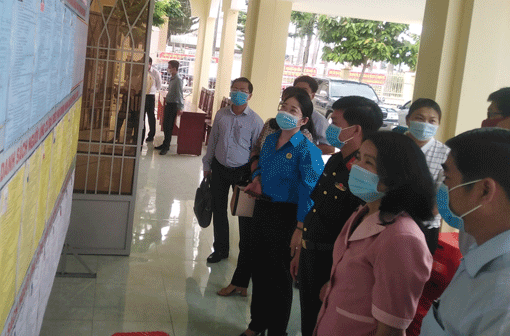 Covid-19 prevention and control at polling stations across the province has been well prepared. In picture: A supervision delegation of provincial People's Council makes supervision on election preparation in Dau Tieng district's Minh Hoa commune
Phan Cong Khanh, Secretary of Phu Hoa ward's Party Committee said: "Covid-19 prevention and control at the ward's polling stations has been completed. Before the election day, the ward will make disinfection to prevent the pandemic. In addition, medical supplies such as masks and disinfectant bottles have been prepared fully. On the afternoon of May 22, the ward's officials will distribute voter ballots to each house and also make medical declarations so that they will not be passive on election day. Early May 23, when people go to vote at polling stations, there will be forces guiding them to ballot boxes. Gathering areas will be marked with lines from 1m-2m distance in accordance with the regulation of the Ministry of Health. According to Mr. Khanh, cases with signs of cough and fever will be segregated at polling stations, with separate entrances and ballot boxes. All officials and forces working on election day were trained well.
In order to avoid large gatherings at the polling stations, the ward announced the time and place of voting to each household. In addition, the ward also has a backup plan, if there is a positive case in the area, and a group or quarter has to be isolated. Polling stations will be held inside the isolated area under the regulation. Officers in the isolation area will perform this work in the correct order.
Not only Thu Dau Mot city, Covid-19 prevention and control work on the election day has also been completed by other localities. Vo Huynh Ngoc Thuy, Chairwoman of the People's Committee of Binh Nham ward in Thuan An city said that Binh Nham has 7 constituencies and 9 election groups. The ward has fully complied with the provisions of the Law on Election. When the pandemic broke out for the fourth time, based on the instructions of the city, provincial People's Committee, the ward has promptly set up backup plans while rechecking to ensure medical equipment at polling stations. "If the pandemic occurs in the locality, the locality will follow the "4 on-site" motto. The ward has directed heads of election groups to ensure Covid-19 prevention-control in accordance with each group 'feature. Up to now, preparations for the election day, including Covid-19 prevention and control work, have been done thoughtfully."
Safety in concentrated isolation areas
Doctor Huynh Minh Chin, Director of Bau Bang district's Health Center, Head of the district's Executive Board of concentrated isolation area said that the district has basically finished Covid-19 prevention and control work on election day. Regarding communication, the district's Health Center has printed 57 banners for communication at 57 polling stations across the district, with the content of proposing and requiring all voters to make medical declarations, wear masks and keep distance when going to polling stations. Preparation for medical supplies, including masks, antiseptic water and body temperature monitors, at 57 polling stations have been finished basically. All 57 polling stations have medical staff working on election day. Before and after the election day, polling stations will be sprayed with disinfectant. Along with that, each communal health station will establish an emergency group. At the district's Health Center, 3 emergency groups will be established and each of them will be in charge of 3 areas and from 2-3 communes and towns...
Based on the plan of provincial Election Commission, the Health Centers of the districts, towns and cities will set up specific plans if there are suspected cases and cases of home isolation, concentrated isolation. Accordingly, for suspected cases with signs of cough, fever, they will be segregated at polling stations, with separate entrances and ballot boxes. For cases of home isolation, there will be a force to bring extra ballot boxes to their houses for casting ballots. In the concentrated isolation areas, localities have organized training for medical staff on election day, well ensuring Covid-19 prevention-control and conducting the elections under the regulations of the National Election Committee.
Currently, Binh Duong has no F0 cases and F1, F2, F3 cases in concentrated isolation areas will be under segregation on the election day. F3 and F2 cases will be voted earlier than F1 cases. After that, the local medical force will disinfect all polling stations as well as ballot boxes before transferring them to the local Election Committees.
Reported by Quang Tam-Translated by K.T