In order to raise the awareness of members and women about water conservation and environmental sanitation to protect the health of their families and communities, the Women's Unions at all levels in the province have continued to promote the campaign. mobilizing and propagating members and women to preserve environmental sanitation through practical actions to promote the role of women in environmental protection.
Environment protection drives spread
The propaganda of dumping garbage in the right place has prompted every house, and every shop to equip with a trash can so as not to throw garbage into rivers and canals. Planting trees and ornamental plants are to create landscape and harmonious living space as familiar actions of the Women's Unions at all levels in regularly coordinated propaganda on the mass media and activities of groups and clubs as well as by parades on the street, banners and slogans. The actions help people better understand the roles and responsibilities of environmental protection and community health protection, prioritize the implementation through criteria of "clean house, clean kitchen, and clean alley" in association with criterion 17 on environment in building new countryside and civilized urbanity.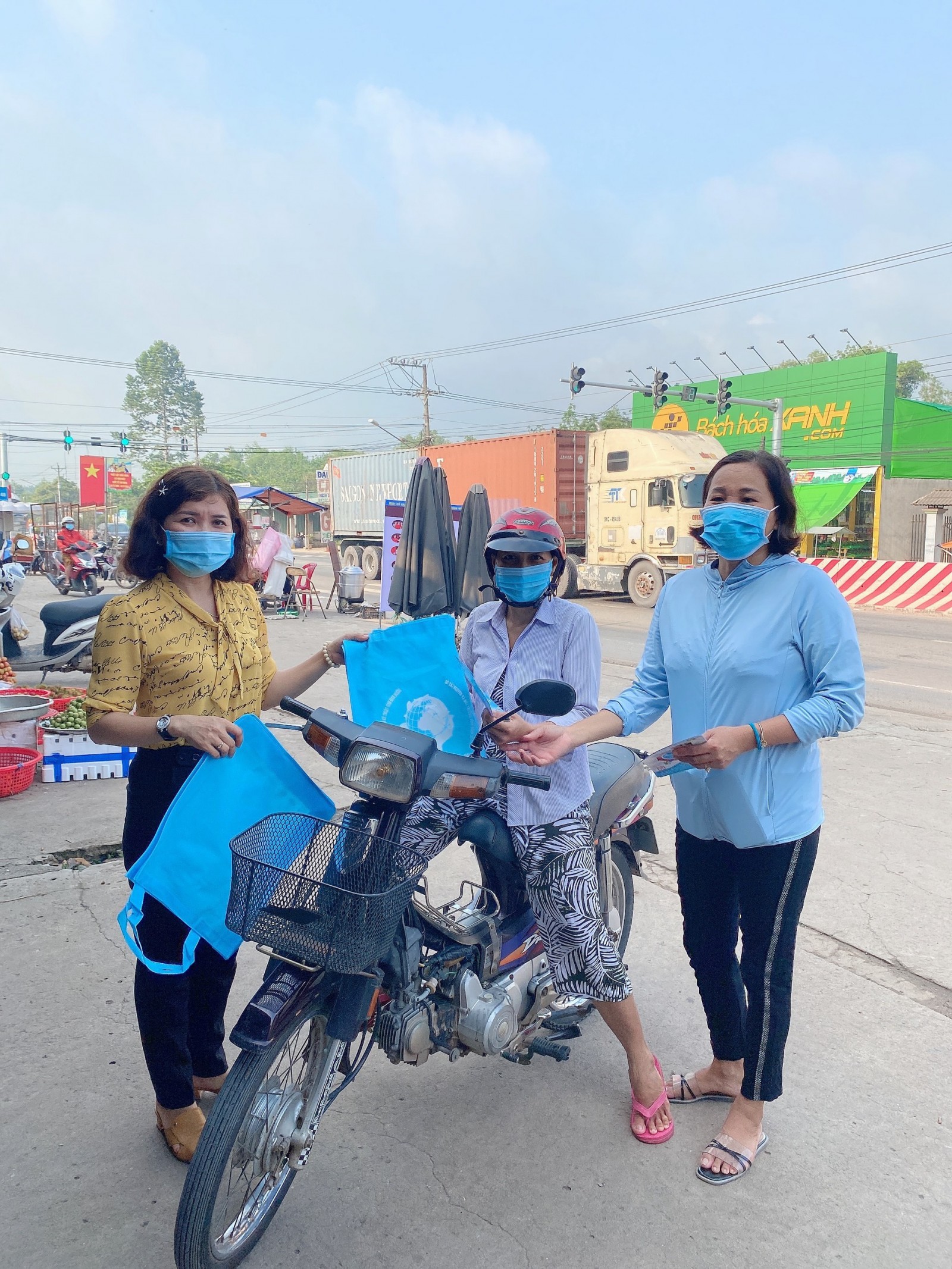 Binh My commune Women's Association in Tan Uyen town calls for use of paper bags on shopping
In particular, over the past time, the Women's Unions at all levels have kept on to organize many activities in response to the program of plastic waste prevention, response to climate changes, the National Week of Clean Water, Sanitation and Environmental Protection, World Environment Day etc. in association with the campaigns to raise awareness about clean water and environmental sanitation through activities at home and in the community such as weekly general cleaning of village roads and alleys, painting contest on conical hats with the theme "For a green planet", installing security cameras, participating in "Action Month for Clean Water and Sanitation", cleaning up workplaces, self-governing routes, clearing bushes, clearing sewers, clearing boards Illegal advertising on the roads etc.
Prominently, it can be mentioned that the Women's Union of Ben Cat town with the contest of "Recycled products for environmental protection", designing content to propagate the environmental protection campaign through the form of printing on keychains; drawing contest to promote environmental protection and talkshow about the harmful effects of plastic waste by Thu Dau Mot city Women's Union; the Women's Union of Thuan An city carried out friendly bags and strengthened cutting boards to protect the environment; the Women's Union of Thuan An city organized an initiative contest for environmental protection ideas and turned old walls into beautiful landscape paintings. In addition, the Women's Unions of districts, towns and cities have also built flowery routes, flowery gardens, and flowery streets; they also established clubs to collect plastic wastes to sell for funds of the association activities, to buy insurance for the poor and union officials, to equip women with plastic shopping baskets and replace the use of plastic bags; to coordinate to launch talkshows about environmental protection.
For green environment
Ms. Nguyen Thi Thanh Mai, Deputy President of the provincial Women's Union, said that the association's environmental protection work in 2021 has the theme of "Binh Duong women are kind for the environment in 2021" by saying no to plastic waste. Accordingly, the association will continue to focus on the content of mobilizing members and women to say no to plastic waste; to actively plant trees, and to create green patches with messages such as women's advocate for environmental protection to change behavior about segregation of domestic solid waste at source, to quit the habit habit of eating chewing gum, to limit the use and electronic waste, and to implement tree planting. In daily housework, women should bring reusable bags to limit the use of plastic bags when shopping. They also should use glass bottles instead of plastic bottles and should give priority to products packed in paper boxes instead of plastic ones. In business, women should use environmentally friendly products to pack their goods; to use paper and rice straws instead of plastic straws; and to exchanging wastes for gifts. The provincial Women's Union will continue to promote information, education and communication activities to equip them with knowledge of environmental protection, management and rational use of natural resources for grassroots association officials.
Specifically, every year, the provincial Women's Union Standing Committee develops plans and dispatches environmental protection activities in responding to the "Action Month for the Environment", "Vietnam Sea and Islands Week" and "World Oceans Day". Especially, the provincial Women's Union has recently applied the conference not to use bottled water in a bid of contributing to the construction of new countrysides and building cultural and civilized urban lifestyle.
It can be said that by the activities of the Women's Unions at all levels, the role of members and women in environmental protection has been promoted to build up green, clean, and beautiful environment by construction projects, specific and practical tasks in branches, associations, families, officials, members, and women.
Reported by Ngoc Nhu – Translated by Vi Bao