Always reminding ourselves to fulfill the responsibility of informing readers of fast, sensitive and accurate news, Binh Duong Newspaper's officials and reporters have constantly learnt and innovated so as not to betray the trust and love of readers. Our motto is to listen from life, accompanying readers.
As a bridge of love
Remembering the days when we were a member of the "Call us" charity group. At that time, we rushed to set off after receiving information from Huynh Xuan Lac (a retired staff of Binh Duong Newspaper's Department of Readers'Affairs). This was because information came to readers a little earlier, difficult cases would be helped more opportunely. Many people facing difficulties in life, poor patients unable to pay for hospital fees, many helpless lives... were promptly supported when there were reflections on the page of readers'affairs. After each article, we felt so happy when doing something useful. Being more moving is that many needy people who have been supported by Binh Duong Newspaper from the "Call us" column, "The Bridge of Mercy" have still visited and thanked us sincerely after many years of being helped.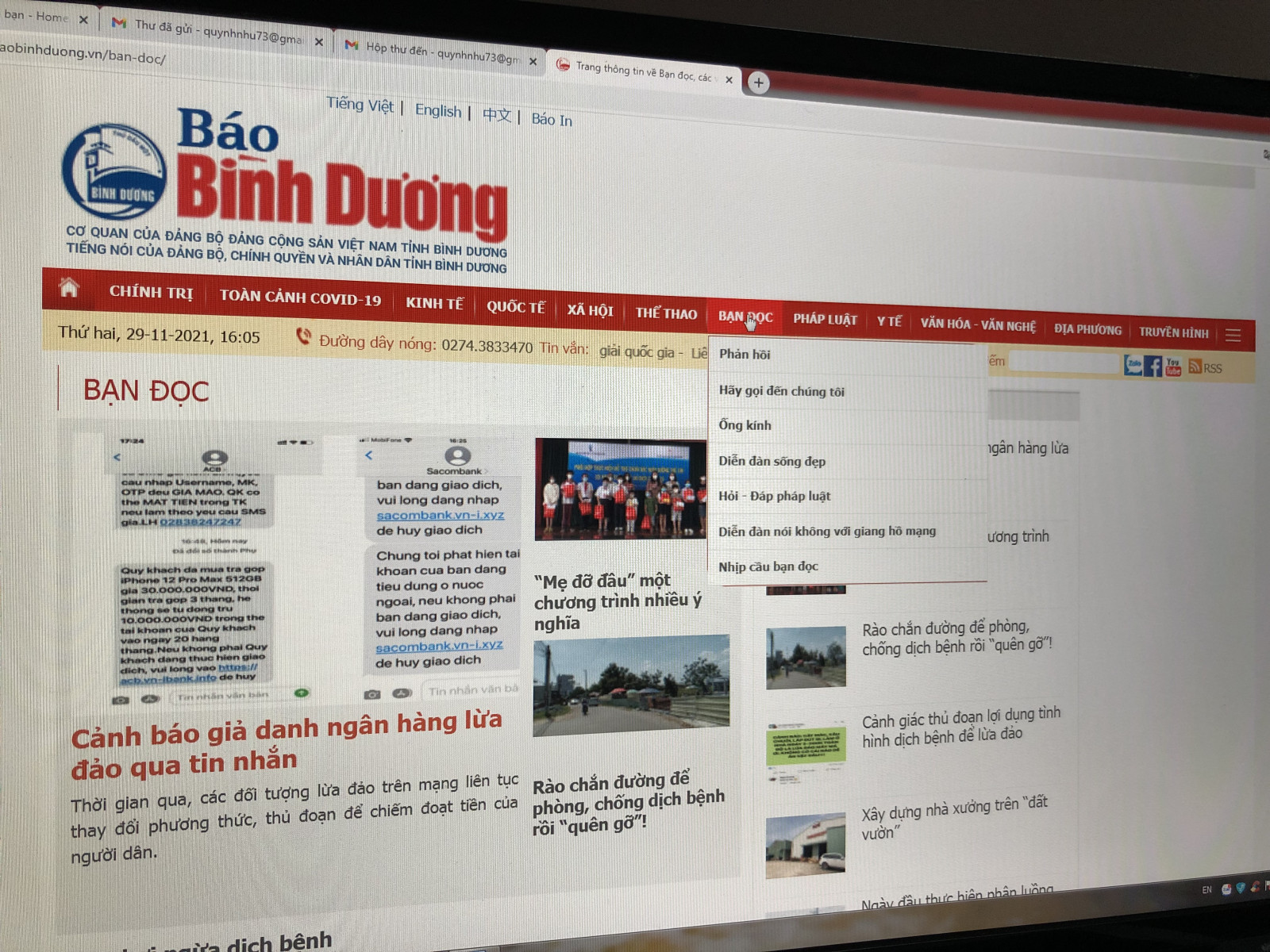 The interface of the page for readers'affairs on online Binh Duong Newspaper
Currently, columns on the pages of readers'affairs on printed and electronic newspapers include: "Feedback from readers", "Call us", "Lens", "Beautiful living" forum, "Q&A", "Say no to cyber gangsters" forum, "Basic measures against Covid-19 prevention and control"...These plentiful columns have created an environment quickly and smoothly exchanging information between readers and journalists. The information reflected from readers has also been received and handled promptly. The group of the department's reporters is very enthusiastic to verify information and promptly respond to feedback from the hotline, from letters from readers.
Recently, all transactions have been made through social networks, due to the complicated developments of the Covid-19 pandemic. The form of buying and selling has also changed from tradition to e-commerce. Many types of scams have also appeared in the situation. Readers have reflected on scams such as high-paying light jobs, fraudulent messages about receiving unemployment benefits, fraudulent messages impersonating public authorities to steal user accounts... Occasionally, social networking groups and scammers have posted very attractive job contents such as: "You stay at home to take care of your children but still want to earn a few of millions of dong to spend, light work, high income... ", "Order online and receive money immediately"…We have also had timely warning about the above contents to readers.
Many readers also said that they have regularly received messages by phone with contents on supporting difficult people, due to Covid-19. This is a form of fraud, so people need to be careful to avoid being scammed. Some readers reflected that they have constantly received messages from many strange numbers with the following contents: "Announcement: Supporting those facing difficulties, due to Covid-19. Access now: >>m.vnsmrtbking.com for benefits. Overdue cases will not be accepted. L8Hg". Many people who are difficult and not vigilant, do not know warning information from authorities will easily follow instructions from this type of message. With this information, Binh Duong Newspaper have quickly learned and grasped information from provincial police agencies at all levels, Department of Information and Communications to promptly inform readers, helping them avoid being cheated.
The newspaper also had many articles to refute bad and toxic information on social networks, especially during the Covid-19 outbreak period. Through interaction with readers, the newspaper also promptly dispatched reporters to the scene to grasp the local actual situation, thoughts and aspirations of the people to inform authorities for timely solutions...
Efforts to accompany readers
The complicated developments of the Covid-19 pandemic have affected all aspects of socio-economic life. And Binh Duong Newspaper is also no exception. In early 2021, around the newspaper's headquarters, there were a number of Covid-19 infections, causing the whole area to be locked down to prevent the spread of the pandemic. In that context, the newspaper quickly arranged an editorial office outside its headquarters to maintain operations. Then, a strong outbreak of the pandemic caused the implementation of social distancing measures. At this time, Binh Duong Newspaper deployed a model of the field editorial office while strongly applying information technology in activities of the editorial office and reporters' work. This is considered as a great effort of all newspaper staff. All have aimed at well performing the tasks of propagandizing Covid-19 prevention-control and accompanying readers during the Covid-19 outbreak period .
In the digital era 4.0, updating information quickly and continuously to meet the needs of readers is an important requirement, considered as a vital element of newspapers. Besides improving the quality of content, updating the latest and most modern technologies to convey information in a rich and attractive way to keep readers is a mandatory element of electronic newspapers today.
Not out of that trend, with the attention of the province, after a period of being upgraded, the new interface of Binh Duong Electronic Newspaper will be launched on the 45th founding anniversary of Song Be Newspaper - Binh Duong Newspaper (December 1, 1976 - December 1, 2021). The new interface with plentiful form, scientific presentation, getting easy to find and supplement information, perfecting some modern journalism genres, having in-depth information with many beautiful images, impressive presentation, vivid video clips, fully supporting the features of multimedia journalism in line with the current development trend. It is designed to customize the device to give readers the best online news reading experience on any devices, from mobile phones to desktop computers, laptops or tablets; while enhancing interactive features with readers...
This is the opportunity for us to "write about ourselves", thereby feeling more proud and having a stronger attachment to the workplace. And, it also reminds us to try harder, to be closer to readers in the coming months and days…
To carry out digital transformation, Binh Duong Newspaper has set up a converged editorial office software system to digitize all press activities, enhancing the ability of operational management in printed and online newspapers in a synchronous way. In addition, the newspaper has also developed social network accounts such as Zalo, Facebook, YouTube... to strengthen interaction with readers...
Reported by Quynh Nhu-Translated by Kim Tin