Concerns of workers, like: shift meals, employment, or working environment, if not resolved in time, conflicts and frustrations will arise. Therefore, meetings and dialogues with openness, straight suggestions with a desire for progression will help employers and employees better understand each other, cooperate for mutual benefits.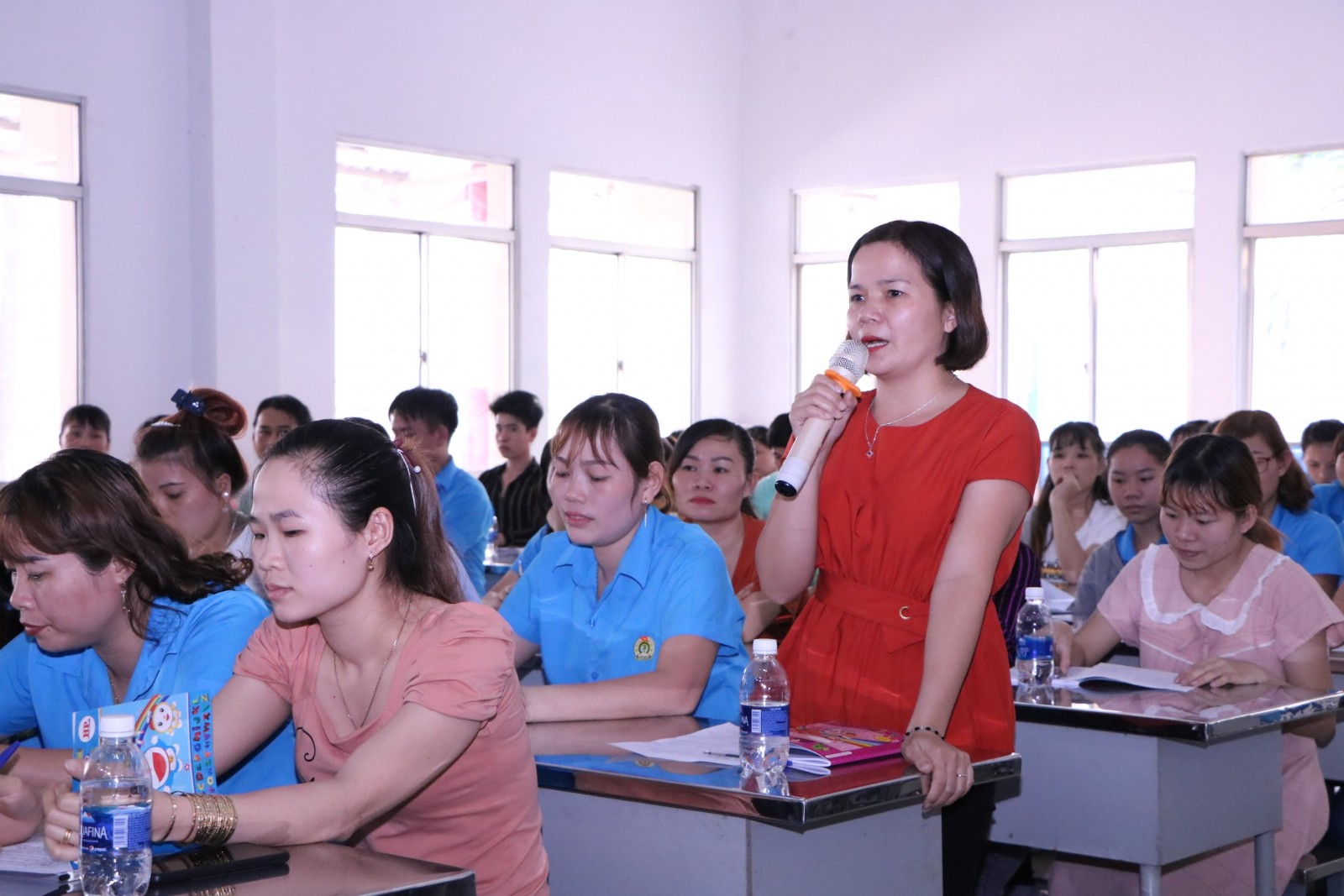 Listening to and answering satisfactorily questions of employees will help facilitate production and business development of enterprises.
Straightforward, open-minded opinions
In order for a dialogue to take place successfully, trade unions have to announce the time and specific issues in advance to each department. That was an opinion of Ho Loi Minh Linh, Trade Union's Chairman of Kolon Industries Vietnam Company (Tan Hiep ward, Tan Uyen town). Mr. Ho said that his company has more than 2,000 workers, hence he determined to do well in listening to workers, satisfactorily answering questions and meeting legitimate expectations of workers. "I always note difficult issues to consult with Board of Directors to give answers later. For example, some workers wished to change a dish of shift meal. Thus I worked with our cafeteria to make timely adjustment", he said.
The company's Trade Union also reminded workers to check menu and give a one-day notice by ticket so that the cafeteria can proactively prepare in time. Therefore, company workers are very satisfied with the shift meal. Several workers suggested that the company should have a separate smoking area to avoid affecting many people. This was considered by the company managers, then an area in the back corridor is used for smoking. According to Mr. Ho, the above issues are not big, but if they are solved in a timely manner, it will enhance mutual understanding between trade union, the company managers, and workers.
At Earth Corporation (South Tan Uyen Industrial Park, Tan Uyen Town), many opinions from workers were presented openly in workers' conference, such as: If I don't take the annual leave, can I get a bonus? The company needed to install more electric fans in some divisions; increase allowances for workers, because gasoline price increased, so the cost of living also increased; the company needed to have more face masks and hand sanitizers in divisions, install more drinking water machines, sensor water taps to avoid waste, more medicine cabinets in factories etc. These opinions were recorded and considered by Directors Board.
To timely solve problems
According to Phan Thi Phuong Linh, HR Director of Earth Corporation, answering all questions of workers would strengthen workers' belief in and commitment to the company. Health care for workers is also prioritized by the company and done immediately to ensure good health and safety for everyone. Wada Masaharu, CEO of Earth Corporation, said that the company's Directors Board believed that we must have employees first then have a company, thus Directors Board always treasures and considers employees a valuable asset. The company is a big family, work together and share achievements. Every worker who does a good job are precious elements that build a common house.
According to Le Minh Hoang, Vice Chairman of Tan Uyen Town Labor Confederation, some companies only focus on production but forget to listen to workers' opinions. These opinions, if not resolved for a long time, will create conflicts, frustration, and easily lead to labor disputes. In fact, enterprises that maintain well the negotiation mode are the ones having stable labor relations; workers' material and spiritual lives are well taken care of.
Through dialogues, employers understand thoughts, aspirations of workers and satisfactorily answer these problems, contributing to promoting business and production activities. Mr. Le also said that, in addition to dialogues, companies should have internal rules and collective labor agreements. This is an important legal basis to protect the rights and interests of employees.
Reported by Quynh Anh - Translated by Ngoc Huynh