Facing the complicated developments of Covid-19 pandemic, provincial People's Committee has continued instructing relevant sectors and localities to take urgent solutions against the pandemic in the new context while implementing measures to solve difficulties, promoting activities.
Efforts to overcome difficulties
According to Nguyen Thanh Trung, Deputy Head of provincial Industrial Parks (IPs)'Management Board, the unit has actively coordinated with localities where there are IPs with many workers in order to quickly and synchronously deploy measures against Covid-19 pandemic. The province has recorded F0 cases related to the chain of Covid-19 cases in Ho Chi Minh City. And there are some cases of F1, F2 being workers, so the risk of Covid-19 outbreak is very great and unpredictable in businesses, industrial parks and compounds in the province. Therefore, it is very necessary for all businesses to set up anti-Covid-19 teams. They are like pandemic shields in each business.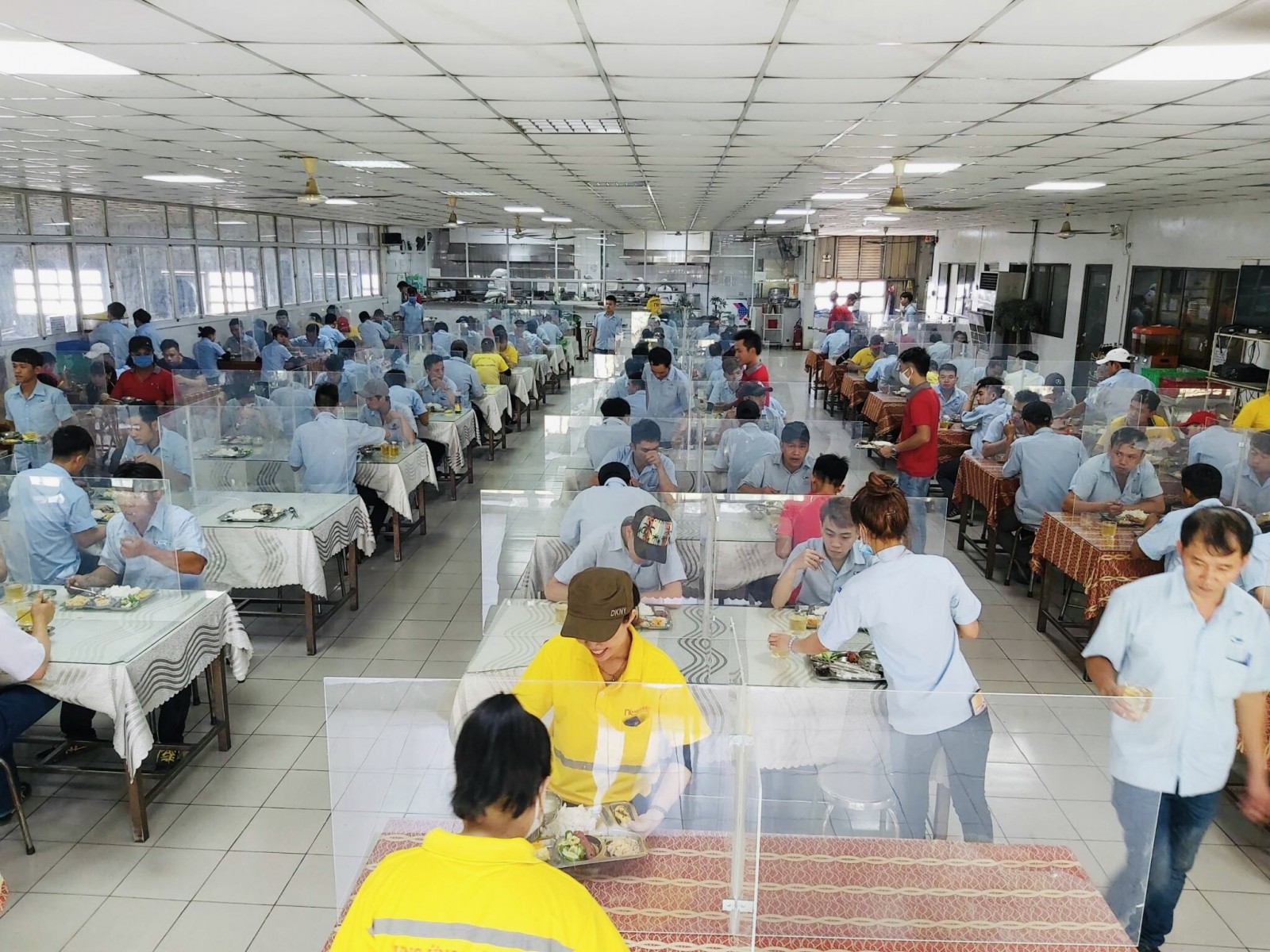 Businesses at province-based Ips continue taking urgent solutions against Covid 19 pandemic in the new context. In picture: The mess hall of Sonova Vietnam Co., Ltd in VSIP 1 is installed with pandemic prevention partitions
Businesses at province-based IPs have continued strictly maintaining Covid-19 prevention and control. Their anti-Covid-19 groups have played their role in monitoring each factory and production workshop. These businesses have also activated anti-Covid-19 solutions at the highest level while maintaining production and business activities such as requiring employees to wear masks, have body temperature checked, make daily medical declarations, ensure distance, etc.
With support solutions from the province plus the efforts by enterprises in overcoming difficulties, the province's industrial sector in May 2021 continued reaching growth. It is estimated that the province's index of industrial production (IIP) in May 2021 increased by 6.5% compared to the previous month and by 10.9% over the same period of last year. Of these, processing and manufacturing industries grew by 6.6% and 11.4%, respectively. The province's IIP in the first 5 months of 2021 was estimated at increasing by 8.04% over the same period last year. Of that amount, processing and manufacturing industries rose by 8.2%; production and distribution of electricity, gas, hot water, steam and air-conditioning by 14.75%; water supply, management and treatment of waste and wastewater by 10.5% over the same period last year.
Seriousness in pandemic prevention
Through surveys at many Ips in the province, most businesses have well maintained the "dual" tasks of promoting production activities and ensuring Covid-19 prevention and control. Currently, security forces strictly control people entering and leaving at all entrances to the IPs. All workers are required to have their body temperature checked, wear masks as well as making medical declaration.
In the past few days, Di An city-based IPs have also made maximum efforts in Covid-19 prevention and control. In the city, taking samples for SARS-CoV-2 testing and strictly implementing isolation and monitoring of F1, F2, F3 cases have contributed to effectively curbing the pandemic. "Currently, city-based IPs operate normally and stably, but we require them to tighten measures against the pandemic in each factory and each workshop," said Pham Van Bay, Vice-Chairman of Di An city's People's Committee.
At Thuan An city-based VSIP 1, Dong An IP, 100% of workers and people entering and leaving companies have their body temperature checked, medical declarations, and seriousness in disinfecting hands. Covid-19 safety teams at companies regularly monitor and remind workers to wear masks during the working time. There are pandemic prevention partitions installed on dining tables with many shifts organized to reduce the number of workers to ensure safety for distance at companies...
Mr. Trung said that so far, most enterprises at province-based Ips have regularly and seriously maintained measures against Covid-19 pandemic, including strictly following the "5K" message of the Ministry of Health; preparing for the most optimal plan in case of having F0, F1 cases; promoting the role of Covid-19 safety teams in daily inspection and supervision...Provincial IPs'Management Board has fully applied information technology in propagandizing and updating information about the developments of the pandemic. The Management Board has also requested units to maintain and strictly implement measures against the pandemic as well as realizing new contents required such as making response plans when there are any F0 cases…
According to Nguyen Hoang Bao Tran, Vice-Chairwoman of provincial Labor Union, province-based businesses have actively followed measures against the pandemic as recommended by the Ministry of Health as well as the general policy of the province in the fight against the pandemic. "Currently, province-based IPs still maintain production and business activities, so they can ensure jobs with stable income for about 1.2 million workers. Amid the complicated developments of Covid-19 pandemic, further carrying out measures against the pandemic is considered the best solution to maintain the "defensive" line for IPs as well as for the whole province", added Mrs. Tran.
It is estimated that the province's IIP in the first 5 months of 2021 increased by 8.04% over the same period last year. The province's total retail sales revenue of commodities and services was more than VND 109.37 trillion, up 11.3% against the same period last year. The province's export turnover was estimated at more than US$ 14.02 trillion, up 49.1% compared to the same period last year while import value was estimated at US$ 10.8 trillion, up 40.4% compared to the same period last year. The province also attracted US$1.25billion in FDI capital during the period…
Reported by Ngoc Thanh-Translated by K.T