Over 20 years implementing the movement of All people uphold solidarity to build a cultural life", Di An City attained and exceeded many important targets. This locality has over 98% of households meeting cultural standards, 100% cultural quarters. Many parks, squares, and stadiums were built, creating a good living environment for the citizens.
To meet and exceed many important targets
According to the plan, soon, Di An city will reach the urban standard of class 2. City leaders have been making efforts to develop this locality according to "Civilization, friendliness, gratitude". Pham Van Bay, acting Chairman of Di An City People's Committee, said that apart from the economic development process, the improvement of material and spiritual life for folks must receive much attention, especially the lives of people with meritorious services to the revolution, and reduce the rate of poor households. The city has made great efforts to create many public works for people to enjoy, such as entertainment centers, sports, and parks. All roads and alleys have drainage and lighting systems. The city also maintains well the criteria of cultural family, cultural quarter, and cultural ward; actively mobilize people to join hands to preserve the green, clean and beautiful living environment... Every year, the city's Steering Committee of "All people uphold solidarity to build a cultural life" plans and implements the movement in the direction of expanding and improving its real quality.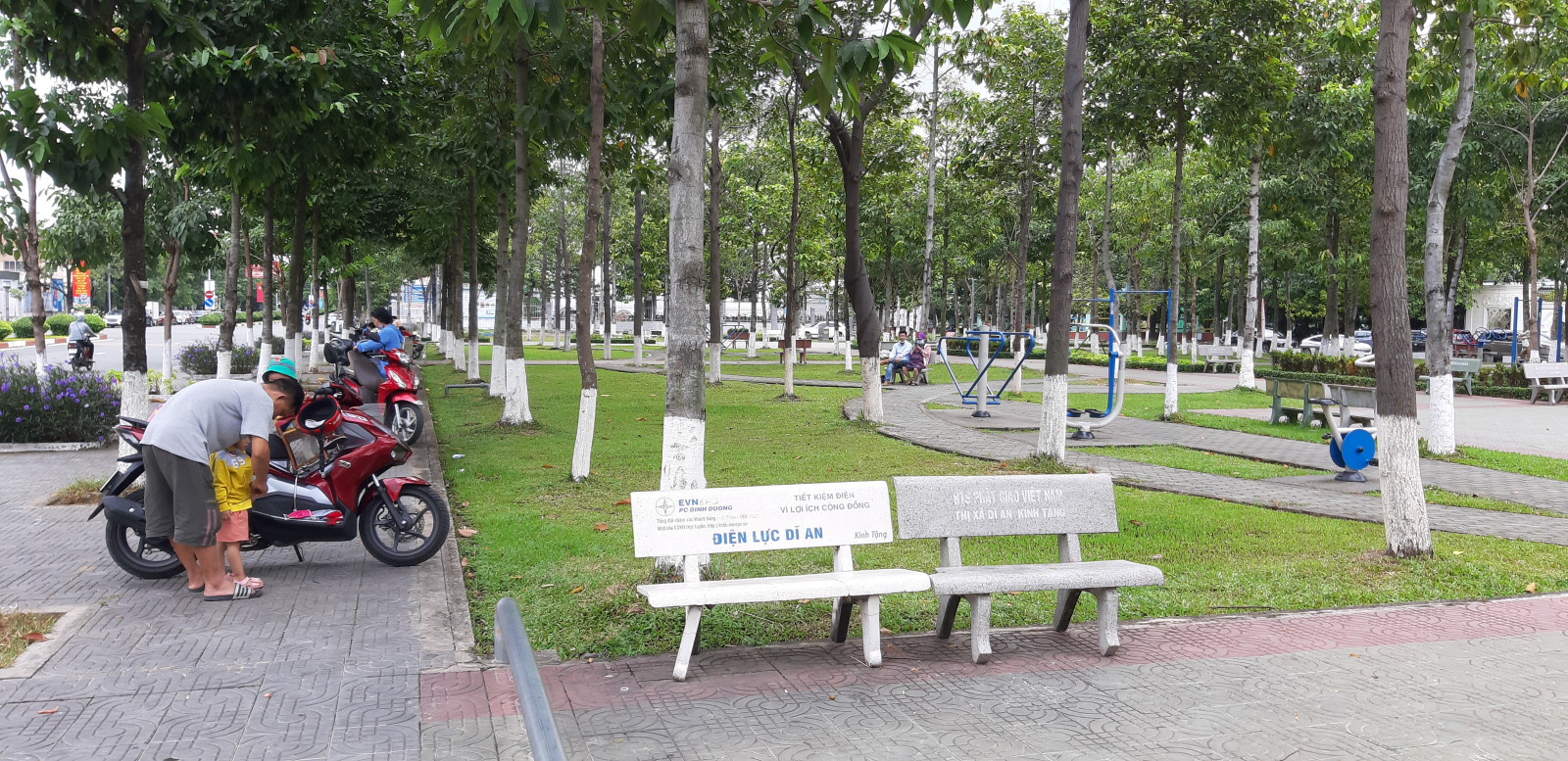 In 2000-2020 period, Di An city invested and put into operation dozens of large and small parks at different wards, serving as entertainment and recreation places for people.
In this locality, the dissemination, study, and implementation of the movement has received the good response and support of all classes of people, especially public servants and party members. Most households are more conscious of and apply a cultural lifestyle, voluntarily help each other to develop home-based businesses, thereby eradicating hunger and reducing poverty, and preserving traditional national ethics. People are aware that the building of a cultural family has a very important position in the construction of cultural quarters and cultural wards, which is the key to building a civilized urban lifestyle.
As a result, the annual percentage of cultural families in Di An City has increased and maintained at a high rate. In 2000, the rate of cultural families in Di An city reached 78.9%, and in 2020 it reached 98.21%. Di An city has the rate of temporary resident population of over 60%, hence the locality has developed a movement of cultural lodging houses for more than 10 years. Currently, the city has 2,105/2,140 cultural lodging houses, reaching the rate of 98.36%. The whole city has 41/41 cultural quarters, reaching the rate of 100%.
In 2000-2020 period, the city invested and put into operation dozens of large and small parks at many wards, serving as relaxation and entertainment places for the people; invested in the construction and put into operation the city stadium and Community Centers of Culture, Sports and Learning. The city also launched many cultural and sports activities, which are held regularly to serve people's needs. In general, the cultural and spiritual life of all people of Di An City is being raised, and the demand for healthy entertainment and recreation has been satisfied.
To practice a civilized lifestyle
In recent years, Di An city has accelerated the implementation of a civilized lifestyle in the residential community in many forms through mobile communication, loudspeakers, printing and distributing leaflets about building a happy family, no social evils, waste-free quarters, waste-free roads...; thereby creating emulation movements, examples of good people and good deeds, replicating good practices of individuals and localities to learn from each other.
For example, the city has well implemented a civilized lifestyle in weddings, funerals, and festivals; committed and persuaded burial establishments and households to refrain from spreading votive papers on the way of funeral procession, and to abolish a number of outdated superstitious practices; mourning should not exceed 3 days… Weddings are also organized in a civilized manner, in accordance with customs and practices, and marriage registration is carried out in accordance with regulations.
The preservation and promotion of cultural heritage in community life is a matter of great interest of Di An city. Social security and order is also guaranteed. The locality also regularly popularizes methods and tricks of crimes at lodging houses and residential areas; mobilize people to participate in denouncing and reporting crimes. Through these movements, the masses have provided many valuable sources of information...
In general, the movement ""All people uphold solidarity to build a cultural life" in Di An city is increasingly strong and effective. Thereby, the spirit of community solidarity is stronger, democracy is promoted, and people's material and spiritual life is improved.
Reported by Q.Tam, P.An – Translated by Ngoc Huynh