In the afternoon of November 25, Binh Duong provincial Party Committee and Military Command solemnly held a meeting to celebrate the 77th anniversary of the provincial Armed Force (November 25, 1945 to November 25, 2022) and respect honor enterprises accompanying the provincial armed forces in local defense.
Attending the meeting was former President Nguyen Minh Triet, Colonel Nguyen Nhu Truc – Deputy Chairman of Politics under Military Region 7, Mai Hung Dung - Standing Member of provincial Party Committee cum Standing Deputy Chairman of the provincial People's Committee, officers, former provincial leaders, and former leaders of the Ministry of Civil Defense of the province.
Speaking at the meeting, Colonel Nguyen Dinh Chuan, Political Commissioner of the provincial Military Police, said that 77 years ago on November 25, 1945, the 1st Division of Liberation Army of the South was officially established in the commune of An Son in Lai Thieu district (now Thuan An city). The birth of Division 1 marked a new era in the formation of the armed forces of Binh Duong province. Thereon, November 25 has become the traditional day of the provincial armed forces. Experiencing many ups and downs, the Division 1 is still a shining milestone in the history of the provincial armed forces.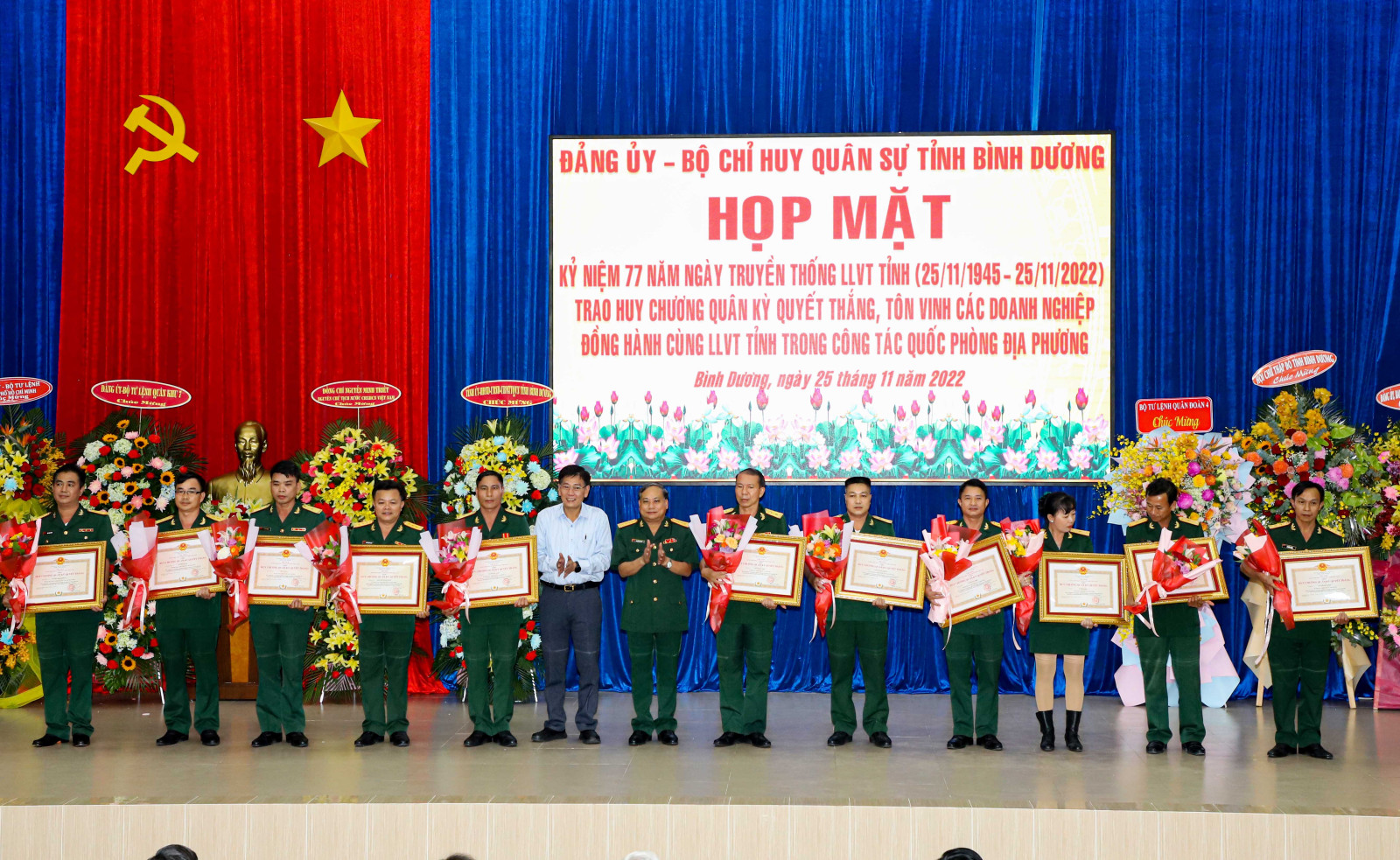 Under the authorization of the State President, Colonel Nguyen Nhu Truc and Mai Hung Dung awards the medal of "military flag's determination of victory" and presented flowers to congratulate 15 officers who have continuously served in the People's Armed Forces. Photo: Quoc Chien
Promoting that glorious tradition, over the years, the provincial Armed Forces have actively implemented synchronous, comprehensive and effective local military and defense tasks. The provincial armed forces act as the core in coordinating with other departments, agencies and localities to advise the provincial Party Committee, the provincial People's Committee and Party Committees and local authorities at all levels to direct the construction of the entire people's national defense and build the strong national battle position of all-people defense in association with the people's security posture in strong defense areas of the province and districts, towns and cities. When the COVID-19 epidemic was complicated in the area, officers and soldiers of the provincial Armed Forces always showed the highest will, determination and political responsibility ready to step into the epidemic center when ordered, not afraid of difficulties, suffering, infection to receive and fulfill all assigned tasks.
On this occasion, the Ministry of Customs of the province honored 14 enterprises that have accompanied the provincial armed forces in local defense.
Reported by Tieu Lien – Translated by Vi Bao