For the time, the connection expansion for consumption of farm produces has become great concerns of Binh Duong as one of the measures to promote sustainable local agricultural development.
All-out efforts
Ever since 2011, Binh Duong province has implemented the agricultural transition into modernization by attaching to processing industry. Of the transition, agriculture of high-tech application is focused on as the strength for Binh Duong to head to agricultural production. In 2016-2020, the revenue of agriculture, forestry and fishery has been growing by 2.74% per annum. The agricultural structure has been transiting to urban agriculture with high-tech application and concentrated large-scale husbandry to elevate produce value and consumption market expansion. By calculation of the agricultural sector, in 5 years, average agricultural production has gained over VND 100 million per hectare a year. The areas of plant cultivation have been relatively stable with strong growth of cattle and poultry herds in 2015. In the province, the high-tech application has been attached to processing and consuming by the established chains of values and planned development.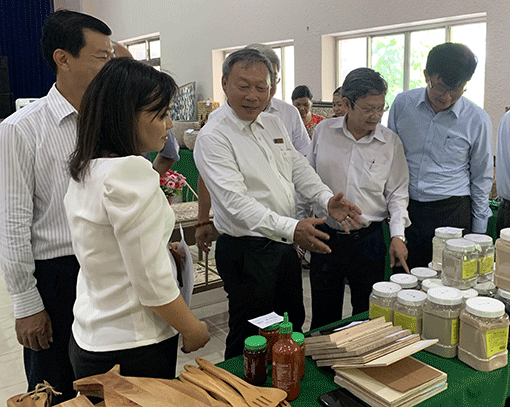 Provincial Department of Industry and Trade has helped to construct brand-names and get local farm produces far out
Despite great achievements of outstanding development of output and quality, the sustainable orientation has not truly in place as the distribution chains have been loosely set. The cause has been that producers or farmers have not actually been heading to the markets without reconciling the unbalanced output to the markets. Besides, the local farm produces have been in struggle to be in the stable output ends. Concurrently, the dilemma of contradict price and yield has caused local farm produces to be in unstable markets where investors are reluctant to cooperate and stay connected in the long run. Doan Minh Chien, owner of Doan Minh Chien General Farm in Bac Tan Uyen district shared with us that the dilemma has been in the time of Covid-19 as citrus in Bac Tan Uyen district has been in great yields but the sales have been lower than previous terms for being too dependent on traders.
Sharing experience about the markets, Nguyen Thanh Thuy, Director of Nguyen Thanh Thuy Co. Ltd. in Bau Bang district, said that it is hard to find a position in the market that requires strategic moves. Currently, the 14-ha farm of Thuy is verified as VietGAP standard to supply to the markets of Ho Chi Minh city and Ha Noi at about 500 tons of tradable pameloes a year. Thanh Thuy green-skin pameloes have been on the stores of Metro and Vincom.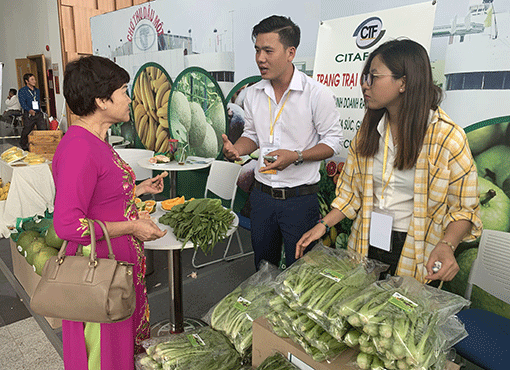 Meeting the customers at the conference of supply-demand connection of local farm produces
For the past time, Provincial Department of Industry and Trade has coordinated with localities to organize conference of supply-demand connection of local farm produces with great participation of enterprises, bringing major outcomes in the search for sales of farm produces. The department has also organized conferences of connecting supply and demand for producers and put the produces to major distributors. Nguyen Thi Minh Tam of Da Loc Flower Collective in Ben Cat town said that the actions have been beneficial to enterprises and producers who have been still newbies in the market.
The market demands are great but enterprises need more connection and functional departments' assistance. For the time to come, Tam said that, her collective shall join trade promotion activities to set the produces to farther markets.
Development of supplying chains
Upholding the motto of selling together, local departments and sectors have coordinated to promote the consumption of farm produces in sustainable manner, of which, connection is the key measure for introduction and expansion of local farm produces. The conferences of supply-demand connection have offered enterprises and groups of farm produces chances to seek out and expand their markets and make breakthroughs in consuming farm produces.
According to leader of Center for Promotion of Investments, Trade and Industrial Development, various cooperation and connection programs have been established nationwide to help enterprises introduce and sell their local produces, especially those of quality processing, food safety and environment friendly. Through the programs, various local farm produces have been introduced to modern retail system to gradually win the trust of consumers.
In long term, to establish sustainable supplying chains of farm produces, Associate Professor and Doctor Ho Thanh Phong, President of Hong Bang International University in Ho Chi Minh city informed that in the future, BInh Duong province needs to synchronously implement production strategies, procurement, and delivery while reducing time of selling farm produces to the markets and meet the demands of creative researches. Besides, the province needs to concentrate on constructing a province-wide and neighboring procurement network to establish centers of procurement and semi-processing to enter larger logistics centers.
Concurrently, Binh Duong province needs to invest into cold storages and multi-functional transportation system on roads and internal waterways. The province needs to set up a delivery center and head marketplaces to directly supply to urban and rural markets.
Reported by Tieu My – Translated by Vi Bao