Nguyen Kim Loan, Chairwoman of provincial Youth Union said that most enterprises in the province had the Tet holiday break from January 20 to 26, 2023 (December 29 to the end of January 5 of lunar calendar). As of January 27 (January 6 of lunar calendar), more than 30% of enterprises have resumed operation after Tet.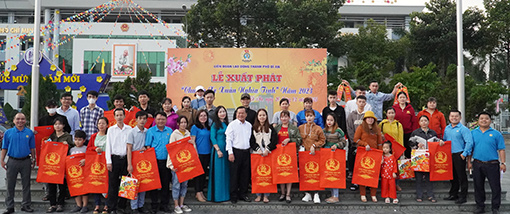 Leaders of Di An city give Tet gifts for workers
During the Tet festival 2023, through the reports of 1,906 enterprises on Tet bonuses, the highest bonus was VND 896 million. The lowest level was VND4.68 million while the average level was VND 7.18 million. Provincial Trade Unions at all levels took the initiative to visit and give gifts worth between VND 500,000 - VND 1million each for workers staying in Binh Duong for Tet.
There were 450,000 immigrant workers staying in Binh Duong for Tet. Provincial Labor Unions at all levels and localities supported VND87.9 billion for 129,310 employees with extremely difficult circumstances; donated 8,424 train, plane and bus tickets to workers returning home to celebrate Tet; coordinated with relevant units to organize 5 "Trade Union" market-days, 18 "Zero-dong" market-days, 400 programs "Tet reunion - Spring cohesion". In addition, trade union locals gave gifts for nearly 800,000 trade unionists; donated 3,230 "banh chung" (square sticky rice cake) to employees staying in Binh Duong to celebrate Tet at lodging facilities.
During the Tet holiday, the whole province had 42 enterprises with specific industries, 20 enterprises in security service, and general clinics with 7,800 employees in operation. These enterprises paid wages for employees in accordance with regulations.
Reported by Ho Van-Translated by Kim Tin